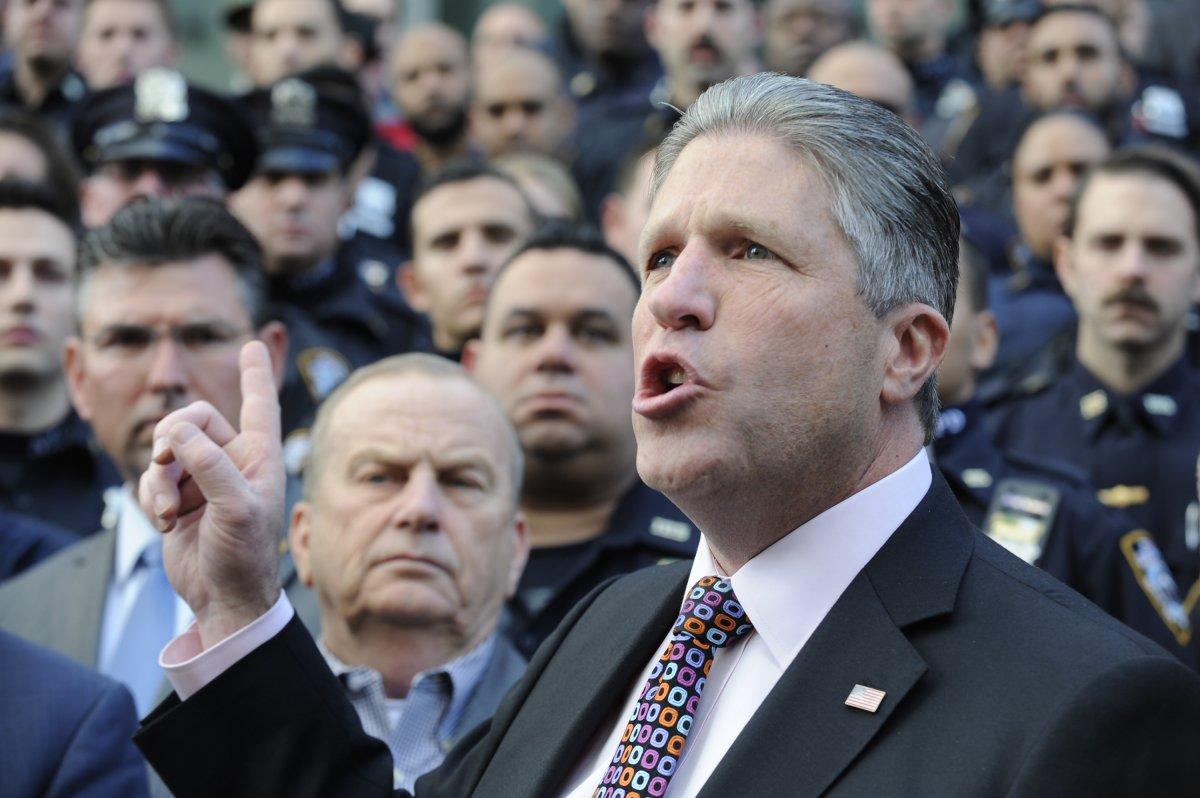 PBA President Pat Lynch says the 50-a law protects cops and their families. (BARRY WILLIAMS/FOR NEW YORK DAILY NEWS)
On Sept. 22, the department hit her with a 32-day suspension and placed her on dismissal probation for a year.
- Another cop, Sgt. Ritchard Blake, was suspended 36 days and placed on dismissal probation on Sept. 27 — almost 11 months after he was arrested on charges he hit his girlfriend in the face in his Brooklyn home.
- Officer Eugen Popovici, who made false statements in an official department interview and misleading statements to Internal Affairs Bureau investigators, got a 30-day suspension and lost 15 vacation days on top of his probation.
- Sgt. Raymond Martinez, also placed on probation, had to pay back more than $5,200 for regular and overtime pay he submitted, but never worked, and lost 45 vacation days.
- Detective Shaheed Raheem was caught misusing a department smartphone. He kept it at his home for 11 months, made 9,000 calls and texts, and failed to register it in a department database. That cost him probation, and 40 vacation days.
Of the 55 officers listed in the documents obtained by The News, just one, Michael Golden, was fired.
Golden's department trial last June was front-page news — he was accused of having sex with a half-dozen prostitutes during undercover stings.
He denied the charges, claiming he never got naked or had sex with the women.
The Manhattan district attorney's office declined to charge Golden based on the lack of witnesses and evidence, since five of the six women left the country.
In the end, Golden was acquitted of the departmental charges — but was sacked anyway.
He pleaded guilty in a separate incident of making a false Internal Affairs Bureau complaint against his boss, which officially sealed his fate.
O'Neill last week said he is determined to get rid of 50-a.
"Our disciplinary system has to become more transparent," he said.
"This 50-a is causing problems for the NYPD. It's not helping us move forward in certain areas. Letting people know about our internal disciplinary process — that's not something we do very well.
"If you're at the newspaper or you watch TV, you would think there is no discipline," O'Neill added. "Nothing could be further from the truth."
Mayor de Blasio also called for an end to 50-a, but said that Albany legislators have to be the ones who kill it.
"We're going to fight for it this year," de Blasio said. "If we don't succeed, I suspect there's going to be some real changes in Albany after this election and there may be another opportunity after that."
Gov. Cuomo, in a swipe at de Blasio, said the mayor could release the records, law or not.
Capt. Scott Forster went home after his shift instead of heading to the hospital to support two cops who were shot and wounded. He was demoted to lieutenant and suspended for 45 days. He also lost 45 vacation days. (STATEN ISLAND ADVANCE)
Of course, the police unions oppose an end to 50-a.
"The desire for 'transparency' does not trump the rights of police officers and their families to be safe, nor does it trump the effective administration of justice," Patrolmen's Benevolent Association President Patrick Lynch said.
"Removing these protections will put police officers at greater risk of targeted attacks, and will allow criminals to evade justice by turning trials into smear campaigns against police officers by using issues that have nothing to do with their guilt or innocence."
But police reform advocate and Legal Aid attorney Cynthia Conti-Cook blasted the NYPD's interpretation of 50-a for promoting "secrecy about police misconduct."
"Contrary to a 40-year-plus policy of NYPD releasing disciplinary summaries, this administration has Frankensteined 50-a from a narrow law that exempts certain personnel records from disclosure into a sweeping law that promotes a dangerous level of state secrecy about police misconduct against the public."
Critics also say that if the accused wrongdoer is a supervisor — like in the case of Assistant Chief Jeffrey Maddrey, who lost 45 vacation days after he was accused of making false statements to the department and roughing up his alleged mistress — the punishment is almost always light.
But Christopher Dunn, associate legal director for the New York Civil Liberties Union, said such a contention is difficult to prove. "It's pretty much impossible to compare punishments given the lack of public disclosure about the department's disciplinary practices," Dunn said.
In a stunning development, Lynch, the head of the NYPD's largest police union, agreed with Dunn, a longtime critic of the department. "It is the NYPD's responsibility to ensure disciplinary punishment is fair among all of its ranks," said Lynch.
The NYPD, however, says its penalties are not arbitrary and are done on a "case-by-case basis."
"(It) takes into consideration the totality of the facts and circumstances of each underlying administrative charge, as well as the overall performance and evaluation records of the individual members involved," said Deputy Commissioner Stephen Davis, the NYPD's top spokesman.
The News attempted to contact all the police officers named in this story. Most could not be reached, and two declined to comment.