The victim's family and friends, in far more subdued style, questioned how Barry was found guilty of no crime in the killing of a senior citizen.
Danner's cousin Wallace Cooke Jr., a former NYPD officer, expressed his disgust after hearing the decision in a trial that lasted just over two weeks.
"Police departments allow this to happen," he said. "To have this going on today is unacceptable."
And the victim's friend Chris Berry, after attending the trial daily, expected the verdict handed down by Neary.
"It's not a surprise at all," she said. "It's virtually impossible to convict a police officer. It's heartbreaking...I'm really sorry that (Deborah) met that untimely, tragic death."
Both de Blasio and O'Neill condemned Barry's handling of the case in short order, and the DA's office pressed for a murder indictment in the case.
Barry became the first NYPD member to face a top homicide count for an on-duty shooting since 1999, when four cops were charged in the killing of unarmed Amadou Diallo as he reached for his wallet.
All, like Barry, were acquitted at trial.
"Clearly this case involved a terrible tragedy and emotions on both sides are elevated," Neary said before delivering his verdict.
"The prosecution's evidence has failed to meet (its) burden of proof. The court finds the defendant not guilty."
Barry was "overwhelmed" by his acquittal after 16 torturous months — and headed from the courtroom to a church for a morning Mass, said defense attorney Andrew Quinn.
"He's been through a very difficult time," said Quinn. "We've always felt confident we would win but you never know until you see the evidence."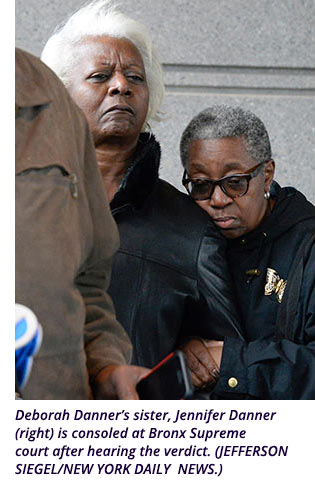 The sergeant was rushed out of the courtroom following the verdict. He left without speaking to reporters.
Barry was charged with second-degree murder, two counts of manslaughter and criminally negligent homicide by prosecutors who condemned his actions as "reckless."
He faced up to 25 years in prison if convicted.
Patrolmen's Benevolent Association head Patrick Lynch echoed Mullins in praising Neary for deciding the case in favor of the sergeant.
"The judge looked at the preponderance of all the evidence and concluded that the actions of the Sergeant were appropriate and not criminal," said Lynch.
"There is no victory here today, only relief that justice has been served and a good man who was doing a difficult and dangerous job has been exonerated."
Mullins also demanded that O'Neill reinstate Barry, who was placed on suspended duty last May.
O'Neill, in a department-wide message issued after the verdict, said the NYPD will now conduct its review of the tactical and supervisory decisions made inside the seventh-floor apartment.
"Today's court decision in the Bronx determined that Sgt. Hugh Barry had no criminal culpability," wrote O'Neill. "It does not, however, make the loss of Deborah Danner's life any less tragic.