"They gave the cops attitude. They started cursing, 'F–k you, get the f–k out of here.' They actually followed [the cop] and the two individuals actually lunged at one of the officers."
"I pulled out my camera and you start seeing the cops being aggressive, when they were just defending themselves," added Gonzalez, a social worker.
The video, a clip of which Gonzalez posted on his Instagram account, also features narration by his aunt, who uses Dominican slang to describe the incident to passers-by.
"They flew at the police, those two troublemakers," she says in Spanish.
"[The cops] were telling them to move from there and they didn't want to, and in between the both of them, they flew at them. Here in the middle of the street."
The aunt also says that "it's good that [the cops] did that."
"They told them to get out of here. … Now beaten and off to jail," she says.
The NYPD said the incident began when the uniformed cops responded to complaints that Grissom and Williams were smoking and blocking a stairwell to the 168th Street station on the A/C/1.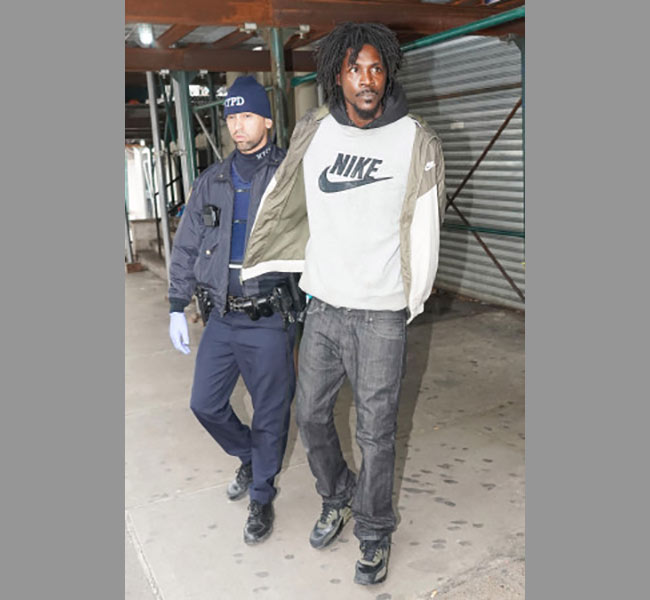 Aaron Grissom Photo:Robert Miller
One of the cops said Grissom tried to punch him, and when his partner went to intervene, Williams attacked the second cop, according to the NYPD.
Grissom and Williams were both charged with felony assault on a police officer, resisting arrest, menacing, disorderly conduct and loitering.
On Dec. 5, both men were arrested inside the subway station when Grissom was accused of taking a swing at a cop and Williams approached another cop while swinging a wooden bat.
Grissom was allegedly carrying 17 zipper bags of synthetic marijuana, also known as "K2," and Williams allegedly had 14 bags of the drug, and court papers said they made threats including, "We are going to get you. You're going to get what's coming to you."
They were each released without bail, according to the Manhattan DA's Office.
Grissom has 25 other prior arrests, three of which involving fighting with cops, while Williams has five other arrests, four involving fights with cops, a law-enforcement source said.
Patrolmen's Benevolent Association President Patrick Lynch said, "What the video doesn't show is that these perps — one of whom has been previously arrested for assaulting a police officer — threw a haymaker at the cops once they got above ground, necessitating the use of force to bring them into custody."
The PBA also released a Facebook video that shows Williams boasting on camera about how cops "don't like me, but they can't touch me."
"Every case I got, I beat. Who you know snuff cops and come home the next day? I do this," he says."
"Ask the 25th Precinct about me. The 67th, the 73rd, the 69th in Canarsie. Yeah, they know me."
Williams also warns, "Keep f–king with me police, I'm gonna show you what it is."
"These hands, these hands work," he says while shaking a fist at the camera.
"F–k the police!"
The video was recorded in August by Grissom, who also posted it on Facebook, according to the PBA.
Williams' last known address is an apartment in Brooklyn where the landlord's daughter, Shantelle Mitchell, 26, called him a "loose cannon" and said that her mom had "asked him to move out."
"The cops came a bunch of times. They'd come when he'd get into fights with his baby's mother. He got arrested three times that I know," she said.
Grissom lives at the Jerome Avenue Men's Shelter in The Bronx, which provides housing for mentally ill drug abusers and where residents said he's known as "Dread" because of his hairstyle.
Additional reporting by Lorena Mongelli, Rich Calder, Larry Celona, Kevin Sheehan and Alex Taylor