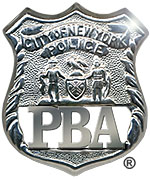 PRESS RELEASE
January 23, 2014
---
40 years later, cop-killers admit murders; PBA wants parole denied
After four decades of adamantly denying any role in the 1971 assassination of two police officers, one of whom begged for his life saying he had two small daughters, two members of the Black Liberation Army have finally admitted to the murders in a transparent bid to win parole.  The Patrolmen's Benevolent Association of the City of New York (NYC PBA) is seeking help in opposing parole for these two cold-blooded cop killers by asking the public to send a letter of opposition through the union's "Keep Cop-Killers In Prison" website at www.NYCPBA.org.
On May 21, 1971, Anthony Bottom, Herman Bell and Albert Washington laid in wait for any two New York City Police Officers to respond to a bogus call for help at the Colonial Park Houses in Harlem, when police officers Waverly Jones and Joseph Piagentini responded.  Stepping up behind the officers as they approached the building, they fired into the backs of 28-year-old police officer Joseph Piagentini and 33-year-old police officer Waverly Jones.  Jones, who was married and the father of two, died immediately of four shots to the back of the head.  Officer Piagentini who lay bleeding on the concrete sidewalk was pleading for his life for the sake of his two small daughters when the murderers took both officers' service revolvers and fired all rounds into the young police officer who died on the way to the hospital. 
The three assassins were convicted and incarcerated with Washington dying in prison.  Bell — who is now known as Jalil Abdul Muntaquim — and Bottom have maintained their innocence for forty-years and in an effort to curry favor with the parole board have finally admitted to their roles in murders.  They have not, however, taken responsibility for their actions and continue to claim that they are political prisoners nor have they shown any remorse for the premeditated, cold-blooded and cruel assassination of two of New York's Finest.  Bell is up for parole consideration in February and Bottom in June.  They can apply for parole every two years.
Mrs. Diane Piagentini said: "Tomorrow, I will speak with the parole board to implore them to keep these two killers in jail.  After forty years of lying, they have finally admitted to killing my husband Joe and his partner Waverly but they have shown absolutely no remorse for their actions and refuse to accept personal responsibility for the crime.  They have denied our two daughters a loving father, our two grandchildren have been denied the love and warmth of their granddad, and I have been denied a husband for our entire lives.  There is no parole for the wonderful man they killed and there should be no parole for these cold-blooded murders."

Police Commissioner William J. Bratton said: "We have just honored the memory of Dr. Martin Luther King, a great man of peace and tremendous accomplishment, on his birthday.  We learned from Dr. King that violence is never a solution to any problem. The men whose parole we oppose today committed a terrible crime against society and against two families and for that, they should never be granted parole.  I am convinced that they would have been sentenced to life without parole for these crimes had that sentence been an option then as it is today."
PBA president Patrick J. Lynch said: "I cannot say this any more clearly: there is not now, nor will there ever be any justification for granting Bell and Bottom parole.  They are convicted cop-killers who will say and do anything to get out of prison.  They deserve no better than they gave to two young police officers who were there to help someone.  It is sickening to think that their manipulative words might be given any weight by a parole board.  We are making a personal appeal to all right-thinking people to oppose their parole by sending a letter of opposition through our website.  Their evil can never be rehabilitated."
The NYC PBA's website that allows anyone to send and electronic letter to the parole board in opposition of a cop-killer's parole request.  The website is www.nycpba.org and the visitor need only click on the icon "Keep Cop-Killers In Jail" and follow the very simple instructions to send a letter.
See PBA flyer