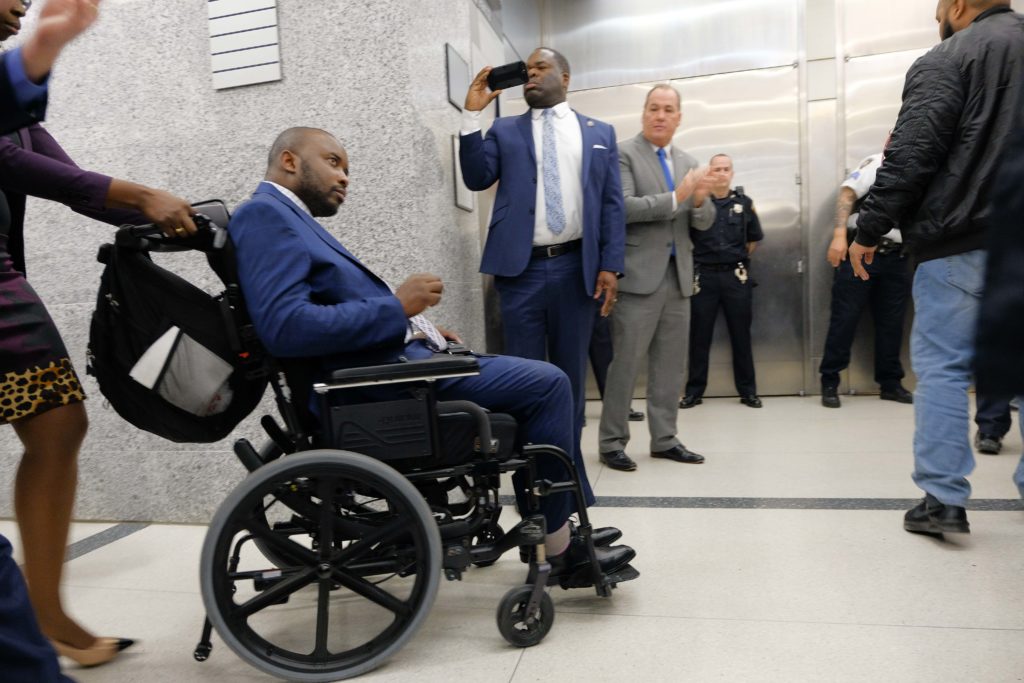 NYPD Officer Dalsh Veve heads into Brooklyn Supreme Court for the sentencing of Justin Murrell. Photos by Curtis Means
A judge's decision inside a Brooklyn courtroom enraged almost 100 NYPD officers who packed two separate rooms on Wednesday for the sentencing of a teenager convicted for causing permanent damage to one of their fellow officers.
Justin Murrell was 15 years old in June 2017, when he stole a Honda Civic from Long Island and went joyriding with two others in East Flatbush. As Murrell was parked by a hydrant near Tilden and East 54th Street, Anti-Crime Unit Officer Dalsh Veve — in plainclothes — approached the driver's side window.
Without warning, Murrell stepped on the gas and dragged Veve for several blocks at 50 miles per hour. The 10-year veteran managed to pull out his service weapon and fire two shots into the car; one bullet hit Murrell in the face, causing the vehicle to crash.
After a jury trial in December, Murrell was acquitted of attempted murder charges but convicted of first-degree assault. The injuries 36-year-old Veve sustained sentenced him to lifetime in a wheelchair. On Wednesday, Justice Ruth Shillingford sentenced Murrell to four years in prison.
Pat Lynch, the president of the Patrolmen's Benevolent Association, took to the hallway outside the sentencing to condemn the judge's decision at a volume that drew spectators out of neighboring courtrooms to listen.
"[Justice Shillingford] has spit on every chest of every shield in this city," he said. "And she spit on that family and our hero."
Veve attended the hearing with his wife Esther Veve, who pushed his wheelchair. They were surrounded by a mass of officers who packed two adjacent courtrooms — one where the audio wasn't working, preventing reporters from hearing Esther Veve's victim impact statement.
"I've never sat in a courtroom where a judge sat and looked at a police officer confined to a wheelchair, heard the widow speak about how their lives have changed, talk about a 4-year-old who will not feel the hug of her father and then say that this mutt should be treated as a child," charged an angry Lynch. "His decisions were adult decisions; the results changed lives."
Murrell was tried as an adult but sentenced under the juvenile offender statute, through which Justice Shillingford had the discretion to render a term of up to 10 years in prison. The teenager will be credited for the time already served in jail and could get released without actually serving the maximum of the term.