February 5, 2018, 4:00 PM
Cops' Extra Payment For Disability-Benefit Gain Starts Feb. 9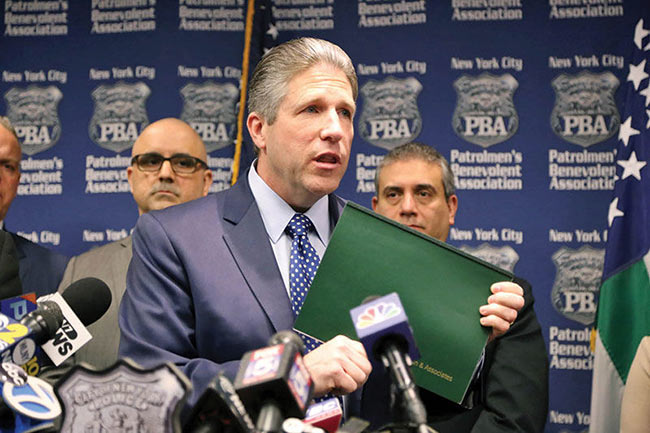 An additional 1-percent-of-salary payment to the Police Pension Fund to cover part of the cost for an improved disability benefit for Police Officers hired from 2010 forward will be deducted from their Feb. 9 paychecks, Patrolmen's Benevolent Association President Patrick J. Lynch informed members in a letter late last month.
That deduction is part of the contract deal reached just over a year ago under which the union finally secured for its newer members a significant improvement in their pension allowances should they suffer a career-ending disability.
Because of a 2009 veto by then-Gov. David Paterson of a Tier 2 extender bill that had routinely been signed by Governors dating back to the late 1970s—when Tier 3 took effect for new city employees with the exception of cops and firefighters—members of the latter two groups were placed in Tier 3 of the system.
Besides requiring that they work 22 years to qualify for a full pension—compared to the longtime standard of 20 years' service—Tier 3 sharply reduced the disability benefit from the standard for more-senior cops and firefighters of 75 percent of final average salary, tax-free.
Mr. Lynch and then-Uniformed Firefighters Association President Steve Cassidy vigorously protested the reduction, which they said could leave newer hires who suffered disabling injuries trying to survive financially on as little as $27 a day in pension benefits. During a 2015 contract negotiation, Mr. Cassidy got the equivalent of the Tier 2 disability benefit, contingent on affected Firefighters contributing an extra 2 percent of their salaries above the standard 3-percent Tier 3 contribution to the Fire Pension Fund.
Police Officers had a far-lower disability rate than Firefighters, and so Mr. Lynch argued that the city's demand that new cops contribute an extra 1.5 percent of salary to receive the benefit was exorbitant. In the give-and-take that produced a broad contract deal on Jan. 31, 2017, he was able to get the added pension hit reduced to an extra 1 percent of salary, and last spring legislation authorizing those provisions was approved by state lawmakers and enacted by Governor Cuomo.
In his letter to the rank and file, the PBA leader no­ted that while the added pay deduction was retroactive to April 10 of last year, the "effective date of the Tier 3 enhanced plan," the Police Pension Fund would not deduct the accrued obligation in a single lump sum, "but will collect smaller amounts over a number of pay periods" to spread out the extra cost for that 10-month period.
He noted that union members with questions about the process could contact Police Pension Fund Membership Services at (212) 693-5850.