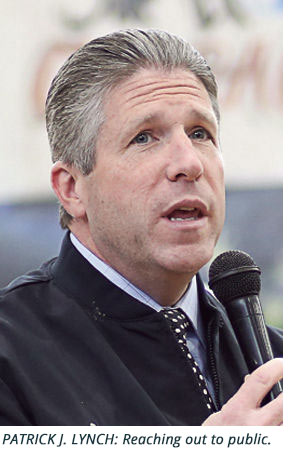 The Patrolmen's Benevolent Association inaugurated a website July 25 that will "highlight notable crime incidents in context, alongside current crime trends and the broader policy discussion. 
"You can use this information to make sure your voice is heard: speak out about conditions in your neighborhood, contact your elected officials and tell them they need to make safe streets a priority," according to an announcement on the site.
Major Incidents, Statistics
The website, www.pbasafetytracker.nyc, lists major incidents with links to news stories about them. It also gives year-to-date crime statistics for the patrol borough and the precinct where the incident occurred, showing increases and decreases in crime.
"The website is part of the PBA's commitment to engaging New Yorkers in an honest conversation about the realities of crime and policing at the street level," the union said.
"Regular New Yorkers are our city's real public-safety experts," said PBA President  Patrick  J.  Lynch. "They see what's happening on their own block. They read the paper and watch the news. They know the 'Safest Big City in America' doesn't feel that way on every street corner. Their policing agenda should be the only one that matters. 
"But too often, Mayor de Blasio and the City Council ignore the realities of individual communities and pursue a different agenda about how police officers should do their job. The PBA's Public Safety Tracker will provide our neighbors with the information they need to speak up and demand real safety policies from city leaders, not just press conferences with cherry-picked statistics." 
In addition, the website invites New Yorkers to share their thoughts in writing about crime in their neighborhood or sign up for public-safety news and updates from the PBA.
Under the heading "Public Safety Policy Discussion," on opening day the union had links to five articles. They dealt with such issues as compiling crime statistics, reporting on stop-and-frisks, and proposed changes in body-camera policies.
"The Public Safety Tracker's crime-incident data is collected on an ongoing basis from local news sources, and supplemented with the NYPD's published crime statistics as of the day of the report," the website said.