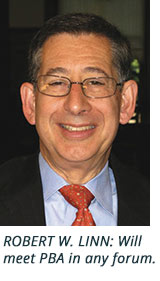 The 300 or so Police Officers and Patrolmen's Benevolent Association officials had marched past the opened West Gate of City Hall Aug. 1 blowing whistles and chanting, "What do we want? Contract! When do we want it? Now!"
The rally on a steamy morning had been called to raise public awareness that the cops were marking the anniversary of the expiration of their last contract and had grown impatient with Mayor de Blasio's resistance to giving them what union President Patrick J. Lynch called "a market rate of pay" to bridge the wide gap between their salaries and those of cops in other jurisdictions.
Many wore orange foam fingers containing the word "Liar" in black lettering in an attempt to put the onus for the stalled talks on the Mayor, who at that moment was up the street in Manhattan Criminal Court for possible jury duty.
His absence was no obstacle to PBA First Vice President John Pugliese revving up union members with a call-and-response of: "Who's a phony progressive?" "De Blasio!" "Who's no friend of labor?" "De Blasio!"
Then Mr. Lynch stepped to the portable podium and declared, "We're here to say to the Mayor: stop traveling the country and manage this city."
He contrasted a characterization of Mr. de Blasio as someone "who gets up at the crack of noon every day" with Police Officers he said endured the travails of shift work while being underappreciated and underpaid by the city.
A similar point was made earlier, before the cops strode through the parking lot and the plaza to the steps of City Hall, by Gerry Moscato, a union delegate for the 73rd Precinct in Brownsville, historically one of Brooklyn's most-troubled neighborhoods.
Shorted and Second-Guessed
Asked what he hoped the rally would accomplish, he replied, "Basically, people need to understand what we go through: that we're not being paid a living wage in the city we protect. We're forced to make life-and-death decisions in an instant, and we're second-guessed at every turn."
Officer Moscato continued, "The shootings that go on with the gang wars, and a very challenged community…the City Council and the Mayor lie to residents about the crime" and what cops have to do to deal with it.
The PBA filed for arbitration in late March, and Labor Commissioner Robert W. Linn countered by accusing the union of not bargaining in good faith because it refused to respond to city wage proposals with any counter-offers. The Public Employment Relations Board dismissed that complaint in mid-April, but it has yet to rule on the PBA's claim that an impasse exists, a conclusion that would trigger a process to appoint a third party to decide the contract.
Neither Mr. Lynch nor Mr. Linn offered an explanation for why PERB was taking so long in deciding that matter. The PBA leader told reporters, "It's time the Mayor realistically negotiates. Start talking realistically, stop with the stalling tactics. Stop trying to delay our arbitration."
He continued, "Why will the Mayor's Office not appreciate us, respect us and pay us?"