Defense attorney David Bart acknowledged the killing of the officer before telling the jurors, "That's one of the few things I will concede to you."
The lawyer questioned the validity of the DNA evidence linking his client to the murder weapon and questioned the reliability of the witnesses.
"This is a complex and difficult case with a lot of emotion overshadowing it," said Bart in his opening statement.
"But you cannot and should not hold Mr. Blackwell accountable because you will find the evidence does not support it."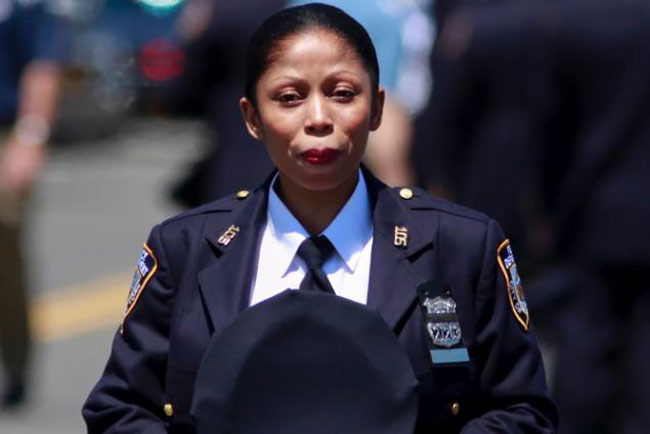 View Daily News gallery of mourners at P.O. Moore's funeral on Long Island.
Bart also suggested brain surgery two years before the shooting negatively affected his epileptic client's day to day equilibrium.
Patrolmen's Benevolent Association head Patrick Lynch, speaking after the opening statements, ripped the defendant and the defense lawyer.
"This is a cold-hearted killer that thought he was a tough guy in the streets ... and now hides like a coward behind his attorney," said Lynch.
"This is a terrible case where a clearly bad decision by a judge resulted in the shooting of Yonkers Police Officer Kayla Maher," Lynch said in a statement.
"Valencia will be held accountable for the shooting of Police Officer Maher, and Judge Villegas must be held responsible for his extraordinarily poor judgment that put this obviously dangerous man back on the streets."
Villegas has been hearing criminal cases since 2004, when he was appointed an acting justice in Bronx Supreme Court. He was elected to a 14-year term as a full Bronx Supreme Court justice in 2008.
The judge declined to comment on Valencia's sentence Tuesday. A spokesman for the state Office of Court Administration also declined to comment, stating that the case was sealed.
On Monday night, Maher and her partner had responded to a routine call to check on a car that seemed out of place in the residential neighborhood.