Herman Bell, who was convicted of gunning down a pair of NYPD officers in 1971, including a Deer Park father of two, was released from prison Friday.
Bell, 70, walked out of Shawangunk Correctional Facility in Ulster County on Friday after serving 44 years, having pleaded guilty to the May 1971 murders of NYPD Officer Joseph Piagentini and his partner, Waverly Jones. He will be under the supervision of the Brooklyn parole office for life.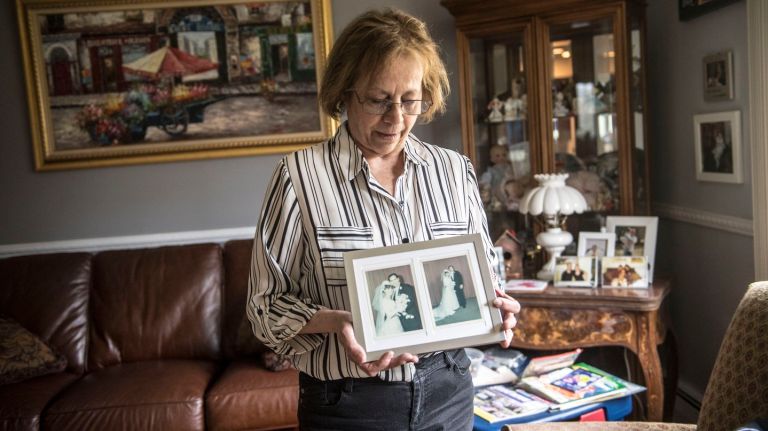 Diane Piagentini at her home on April 27 with photos from her wedding to NYPD Officer Joseph Piagentini. Photo Credit: Newsday / Alejandra Villa
His release spurred protests from law enforcement, elected officials and Piagentini's family.
The State Parole Board had granted Bell parole last month after denying his previous seven requests.
While the 14-member panel said Bell's crime was "one of the most supreme assaults on society," they said his "debt has been paid to society" and granted his parole based on his age, years in prison, personal growth and remorse.
Diane Piagentini, the widow of Joseph Piagentini, said Bell manipulated the system, feigning remorse to get out of prison.
"This is an injustice to every police officer throughout the whole country," Piagentini said in an interview in the Deer Park home she once shared with her husband. "It is an injustice to every citizen who walks the street."
Bell was also serving a concurrent sentence after pleading guilty to voluntary manslaughter in the death of Sgt. John Young in San Francisco in August 1971.
At a news conference Friday, New York City police union officials and lawmakers railed against Bell's release, demanding that parole laws be strengthened to give victims' families more input in the process.
"The current parole process contains gigantic loopholes that allow murderous monsters like Herman Bell to game the system," said New York City Patrolmen's Benevolent Association President Patrick Lynch.
Bell's attorney, Robert Boyle of Manhattan, said the parole board did not take the decision lightly, interviewing his client for almost three hours instead of the 15 minutes or so for many prisoners.