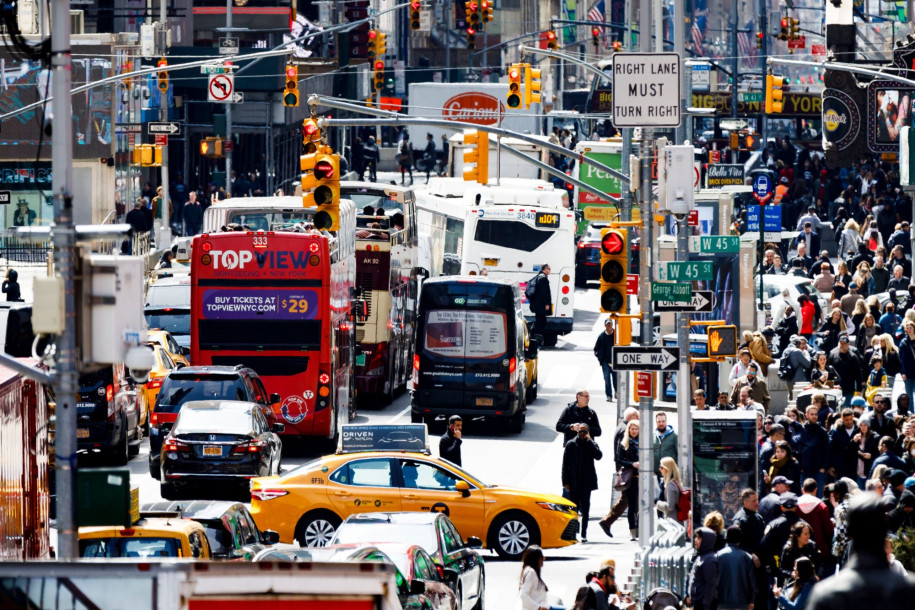 A new congestion pricing plan would charge drivers for entering certain areas, but not everyone is on board.JUSTIN LANE/EPA-EFE/REX
It could be death by a thousand cuts for Gov. Cuomo and Mayor de Blasio's congestion-pricing plan.
Lawmakers throughout the city are calling for all kinds of exemptions to the surcharge, which is expected to be $11 to $12 for cars driving between 60th Street and The Battery.
The plan passed as part of the state budget in the spring, but lawmakers kicked the can down the road to finalize the details.
That is giving opponents plenty of opportunities to weaken the plan, with Assemblyman David Weprin (D-Queens) leading the charge.
"My constituents who drive into Manhattan are not wealthy people," he told The Post. "I know the governor seems to say at any number of events it's only wealthy people who drive into Manhattan, but that's not really true."
Weprin's solution? Exempt all New York City residents from the surcharge. Failing that, he would push for exemptions for the elderly and for low-income drivers.
"I'd like to see as many people as possible exempted," the assemblyman said.
Both Cuomo and de Blasio pushed for congestion pricing, with the governor stating in February, "Congestion pricing is the only logical and realistic option to fund the MTA's capital needs."
The plan passed at the end of March with several exemptions already built in. Residents of the "congestion zone" making less than $60,000 a year are exempt, as are emergency vehicles and vehicles carrying people with disabilities.
Assemblyman Jeff Dinowitz (D-Bronx) made a deal reducing the pain of the congestion surcharge for his constituents. He got the state to drop the $7 toll on the Henry Hudson Bridge for all Bronxites, though they'll still face the congestion fee once they reach 60th Street.
Other pols are seeking additional exemptions before the surcharge goes into effect on Dec. 30, 2020. The moves come as congestion pricing remains unpopular among most New Yorkers, who oppose it 54 percent to 41 percent, according to an April poll from Quinnipiac University.