NYPD cops erupted in fury at Police Commissioner James O'Neill on Monday for firing embattled Officer Daniel Pantaleo over his fatal arrest of Eric Garner five years ago.
O'Neill announced his morale-crushing decision just weeks after cops endured a spate of brazen water-bucket attacks and little more than a day after three officers were injured during a melee in Brooklyn.
In response to Pantaleo's dismissal, the head of the Police Benevolent Association angrily called for a union vote of "no confidence" for both O'Neill and Mayor de Blasio.
"It's absolutely essential that the world know that the New York City Police Department is rudderless and frozen," PBA President Patrick Lynch said standing before an NYPD flag hung upside-down in a signal of distress.
"The leadership has abandoned ship and left our police officers on the street alone, without backing."
During a news conference at PBA headquarters in lower Manhattan, Lynch also held up the front page of Monday's Post, which quoted the union describing the "chaos" that erupted at the Marcy housing project in Brooklyn late Saturday night.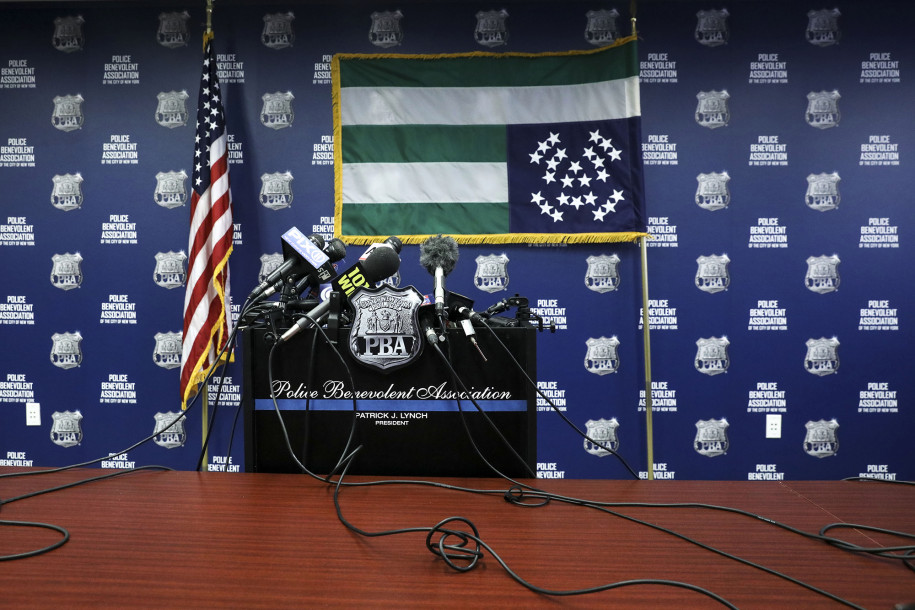 The NYPD flag is displayed upside down before a news conference at PBA headquarters after the NYPD announced the firing of officer Daniel Pantaleo. Getty Images
"Violence. Gunfire. Bricks, garbage thrown off the roof. Fifteen hours for the mayor to say, 'That's wrong,' " Lynch fumed.
Earlier Monday, O'Neill said he agreed with a deputy's report that recommended Pantaleo, 33, be fired for using a prohibited chokehold while arresting Garner, 43, on suspicion of illegally selling loose cigarettes.
The July 17, 2014, incident helped fuel the Black Lives Matter movement when cellphone video emerged that showed Garner gasping, "I can't breathe!" at least 11 times.
O'Neill cited Deputy Commissioner for Trials Rosemarie Maldonado's finding that Pantaleo's use of the chokehold was briefly "acceptable" when both men were struggling against a plate-glass storefront on Staten Island, but faulted the cop for not changing his grip to a "less-lethal alternative" when they hit the sidewalk.
"No one believes that Officer Pantaleo got out of bed on July 17, 2014, thinking he would make choices and take actions — during an otherwise routine arrest — that would lead to another person's death," O'Neill said.