The PBA did not respond to inquiries about whether it had received a reply from the CIB or filed a formal conflict of interest complaint.
Poses Danger to Cops
For just as long as advocates have been calling for changes to the law, Mr. Lynch and the PBA have opposed the effort, saying that any weakening of 50-a, let alone full repeal, would have harmful and possibly lethal consequences for officers accused, rightly or wrongly, of misconduct.
But supporters of repeal, including civil-liberties attorneys, say that the state's Freedom of Information Law, which would most often be the vehicle by which personnel records were publicly released, ensured that officers' personal information, including addresses and names of family members, would be redacted.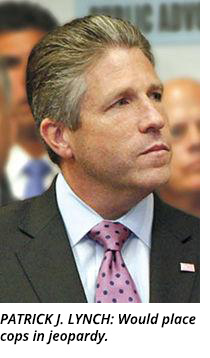 The PBA has been unconvinced. "The FOIL privacy exemptions would still allow employers, under pressure from anti-police advocates, to publish false or frivolous complaints that serve no purpose apart from furthering their campaign to demonize police officers," Mr. Lynch said in February.
The PBA has several times gone to court to contest challenges to the law in the last few years.
'Not an Experiment'
At the CCRB meeting, at which dozens spoke in favor of repeal, Nahal Zamani, an advocacy program manager with the Center for Constitutional Rights, said that despite 50-a, leaks of information have revealed what she said were "extensive disciplinary failures," including the NYPD's preference for little or no punishment and the department's downgrading of discipline from that suggested by the CCRB for officers who were found guilty of misconduct. 
Still, Ms. Zamani said, repeal would allow the board to best pursue its mission and mandates, including broad, department-wide analyses of misconduct. "Because of the law, many of the board's conclusions, as well as any action taken by the NYPD following substantiation of misconduct, remain shielded," she said. "Merely modifying 50-a would still shield important information about discipline and misconduct and lead to the same abuses and issues."
CCRB member Erica Bond, an attorney who has worked with city government, including on criminal justice issues, said that among the "important' reasons she is favor of repeal, is "to hold the CCRB accountable."
Doubts Threats to Officers
She noted that several other states have more liberal laws with regard to disclosure of police-misconduct records. "And those laws do not in any way impinge on the ability of those states to have fair and just criminal-justice systems," she said. Ms. Bond added she had not heard that the release of those records had compromised the safety of officers in those states.
"This would not be an experiment that New York State would be embarking on," she said. "There is precedent for doing this, and doing this in a manner that is safe and fair both for civilians but also for police officers."
Mr. Davie indicated that the board would revisit the issue, including by deciding whether its members would take formal action.