The city's largest police union wants convicted cop killers to stay behind bars forever.
The Patrolmen's Benevolent Association urged the state Parole Board on Tuesday to reverse how it assesses cases, making the nature of the crime the top factor in determining if a prisoner should be freed.
The PBA, along with two widows of officers killed on the job, also urged state lawmakers, during an emotional news conference at the labor organization's office in lower Manhattan, to codify how the board operates.
PBA President Patrick Lynch and other law enforcement leaders are furious the board released convicted cop killer Herman Bell in April after a nearly 40-year prison stint.
Lynch told reporters that he believes in redemption but not for people like Bottom and other convicted cop killers.
"We are not talking about a mistake by a young person," Lynch said. "What we are talking about is evil that can't change."
In 2016, Gov. Cuomo announced that the board would use a new risk assessment system to determine if a prisoner should be released. The Correctional Offender Management Profiling for Alternative Sanctions system incorporates "an inmate's current score on a risk and needs assessment."
The system also directs the board to consider the "diminished culpability" of the prisoner based on their age at the time of the crime. Prisoners are also judged on how they have behaved behind bars.
On Tuesday, relatives of two officers killed decades ago joined Lynch to slam the system.
"It is difficult for me to even imagine how any right-thinking person could consider for a second letting Sal DeSarno back onto our streets where he will most certainly return to a life of crime and violence," said Linda Sledge, whose husband, Cecil Sledge, was killed by DeSarno on Jan. 28, 1980.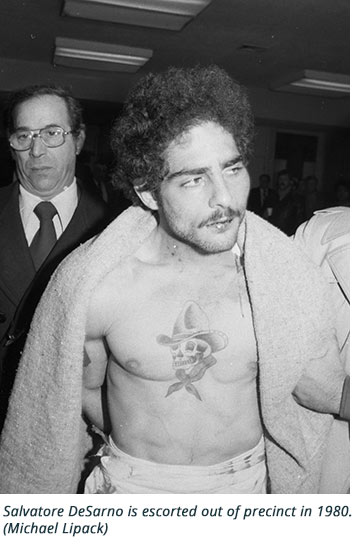 During the fatal encounter, DeSarno was out on parole for an unrelated armed robbery. Sledge pulled him over in Canarsie, Brooklyn, to write him a traffic summons.
But DeSarno, worried he would be hauled back into prison because he should never have been driving, shot at Sledge, 35, who then got caught on the car's bumper. The cop's body was dragged for a quarter mile until DeSarno smashed into a house.
"Had he committed this crime today, he would have been given life without parole, which is the only appropriate sentence absent a death penalty," said Linda Sledge, who had a 3½-year-old son and 9-month-old daughter at the time.