September 29, 2019, 1:13 PM
At NYC Tunnel to Tower race to honor fallen 9/11 firefighter, a moment of silence for slain NYPD cop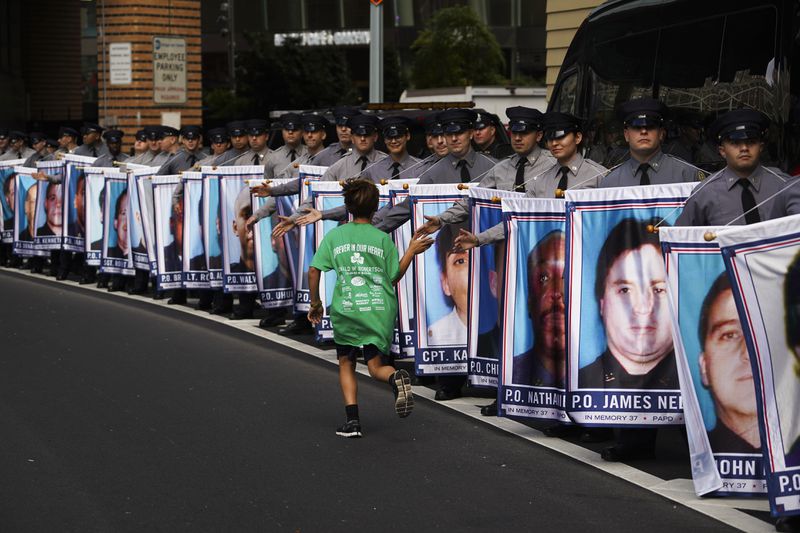 At an annual foot race to honor the memory of one fallen first responder, everyone paused Sunday to mourn for another.
Before taking off on the roughly 3-mile run that traces the route FDNY firefighter Stephen Siller took on foot on 9/11 to reach the Twin Towers, U.S. Sen. Chuck Schumer asked that the crowd hold a moment of silence for NYPD officer Brian Mulkeen.
The 33-year-old cop was killed overnight while struggling with a suspect in the Bronx. Mulkeen is the second NYPD officer killed in the line of duty this year. Det. Brian Simonsen was accidentally shot by fellow officers in February while confronting a robbery suspect.
Mulkeen's death put an even more somber cast on the 17th annual Tunnel to Tower run that has become tradition for many first responders and the people and charities who support them. The footrace raises money for a non-profit in Siller's name that helps families of fallen firefighters, cops and other first responders.
Siller, a 34-year-old father of five kids, was assigned to Brooklyn's Squad 1 on 9/11. He was on his way to play golf with his brothers when he got word over his scanner of a plane hitting the North Tower of the World Trade Center. He returned to his squad, threw on his gear and drove his truck to the entrance of the Brooklyn Battery Tunnel, only to find it closed. Undeterred, he strapped 60 pounds of gear to his back and raced on foot through the tunnel to the Twin Towers, where he died along with 342 other FDNY members.
More than 30,000 runners poured into the Brooklyn Battery Tunnel on Sunday to commemorate his courageous act and salute the bravery of first responders in the city and across the country.
"Powerful races make you run faster," said Mackenzie Rawls, 27, a dancer who just relocated to the Big Apple from Maryland.
Also in the 5k race was Miami firefighter Richard Melendez, who raced with 20 colleagues from the Florida city.
"The actions he took that day are heroic," said Melendez. "We are here to pay tribute to him. It's a privilege to do the run."
Off-duty city firefighter Greg Wilson, 36, also strapped on his running shoes.
"I'm honored to be here. It's part of something big and I'm glad to be a part of it," the smoke eater said.
With traffic shut down, runners had a clear path as they entered the humid tunnel from Brooklyn to Manhattan. Classic rock songs like "Bad to the Bone" and "American Woman" bounced off the curved walls.
"I'm here to honor the people who aren't here anymore" said Michael Tipton, 26, an off-duty New Jersey cop who raced with his friend Chayanne Hyde, 24.
The proceeds of the Tunnel to Tower run will go toward paying off the mortgages of homes for the families of slain or critically hurt first responders and military personnel as well as helping get mortgage-free homes for such families, including Gold Star ones.