September 18, 2019, 2:57 PM
Cop wounded in shootout with slain Staten Island suspect leaves hospital to thunderous applause from NYPD colleagues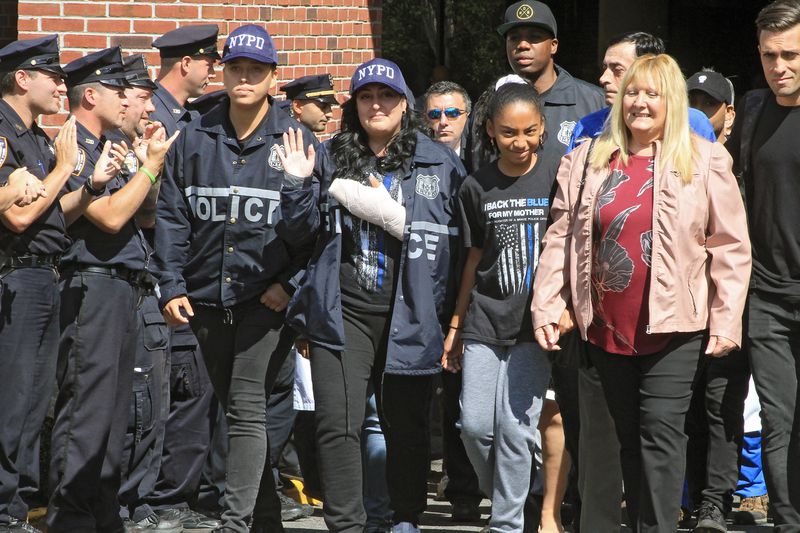 Officer Vanesa Medina, who was shot in the hand in deadly police-involved shooting in Staten Island, walks out from Richmond University Medical Center with her family on Staten Island Wednesday. (Jesse Ward/for New York Daily News)
The NYPD officer wounded in a Staten Island shootout with a gun-toting ex-con left the hospital Wednesday to the raucous cheers of her fellow cops — as officials revealed the weapon used against her was an NYPD gun stolen in 2016.
Officer Vanesa Medina, shot in the left wrist during the Tuesday confrontation with domestic violence suspect Gregory Edwards, wiped away tears with her right hand as she climbed from her wheelchair and walked out of the Richmond University Medical Center little more than 24 hours after she arrived.
Medina wore a cast on the wounded hand and a blue "NYPD" baseball cap on her head.
Asked how she was doing, the brave 30-year-old cop mouthed the word "good." Medina, an immigrant from Argentina, works at the 120th Precinct after joining the department in 2016.
Medina and her partner, Officer Raychel Campanella-Rivera, were among the cops who responded Tuesday morning to a report of a domestic violence suspect from a Staten Island woman who had filed a complaint with police against the same man only hours earlier.
According to police, Edwards immediately became combative and resisted arrest as cops tried to put him in handcuffs. A blast from an NYPD Taser did little to slow the suspect, who pulled a .9 mm pistol and squeezed off two shots before Campanella-Rivera fatally shot the gunman.
Two of the three other officers on the scene performed CPR on Edwards only seconds after he tried to kill them, cops said.
According to an autopsy by the city Medical Examiner, Edwards was shot twice in the back with injuries inflicted to his heart, aorta and right lung — with a police official noting the finding "makes sense" given the chaotic scene. Police said three bullets were fired by Campanella-Rivera.
"We know there was a struggle," said the police official. "He fired. There was a a struggle. There were cops around him. In that kind of scenario it stands to reason there might be rounds in the back, given the suspect was brandishing a gun, an officer was shot and a person was resisting arrest."
According to sources, the weapon Edwards used was stolen from an NYPD sergeant on Staten Island in 2016, and that the theft was properly reported by the officer at the time.
The Legal Aid Society issued a statement calling for the NYPD to release unedited body-camera video of the incident where Edwards, 39, was mortally wounded.
"Our hearts ache for Mr. Edwards' family and his community who suffer these tragedies regularly and more than any community should endure," said the statement. "The NYPD has told its side of the story, now it's time for the department to release all unredacted body-worn-camera footage ... Mr. Edwards' family is entitled to a full and objective account of this incident."
According to the NYPD, Edwards had a lengthy rap sheet in both New York and Miami, and had spent five years in prison for a Staten Island shooting.