December 10, 2019, 8:16 PM
Federal judge ordered paroled cop killer back behind bars to hear from slain officer's family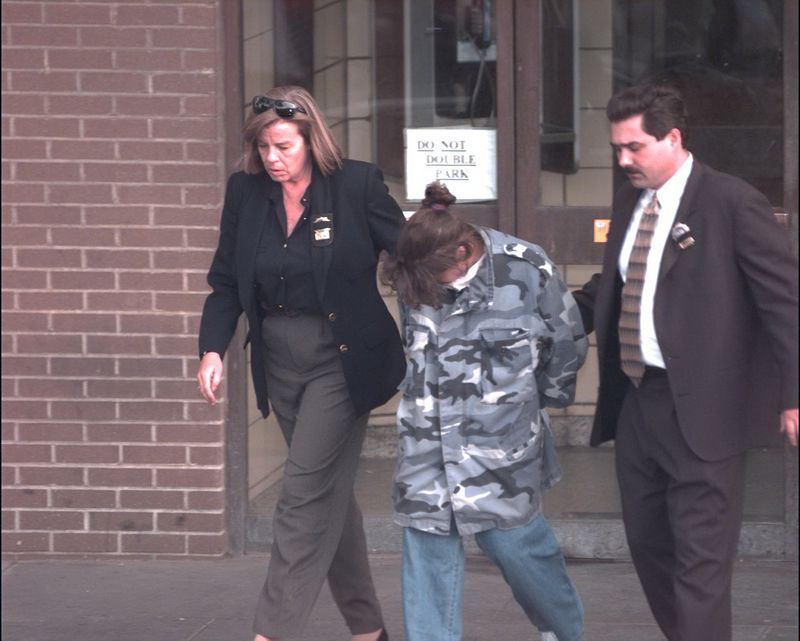 Betsy Ramos, girlfriend of Jose Serrano, who killed Police Officer Anthony Mosomillo, is taken from the 67th Precinct stationhouse in this file photo. (Davis, Clarence)
A woman who helped her boyfriend kill a cop in 1998 was released on parole Tuesday, only to be locked up again to give officials time to hear from the slain officer's family.
Betsy Ramos, 55, who was sentenced to 15 years to life after her conviction on manslaughter charges, was released from state prison Tuesday — a parole board decision that blindsided slain NYPD Officer Anthony Mosomillo's family and left the city's largest police union fuming.
Her freedom was short lived. After limping into Brooklyn federal court with a cane and struggling to get into her seat, she pleaded guilty to violating the terms of her release in a prior federal case.
Judge Nicholas Garaufis then ordered her held until her sentencing on the violation Dec. 20.
Ramos was denied parole at a January hearing, but she appealed that decision and prevailed — and Mosomillo's family was never given the chance to weigh in, Police Benevolent Association president Patrick Lynch said.

"We are grateful to Judge Garaufis for letting the family of our hero police officer be heard," he said. "Because of the New York State Parole Board's outrageous deception, the Mosomillo family has been forced to live in fear of seeing Anthony's killer walk out of prison doors."

Ramos was hiding her boyfriend, Jose Serrano, in her East Flatbush apartment, when Mosomillo and another officer showed up with a warrant.

She admitted to helping Serrano wrest away the other officer's gun, which her boyfriend used to shoot Mosomillo. Mortally wounded, the officer managed to return fire and kill Serrano.

"I hid my boyfriend from the police when they had a search warrant. Two people died as a result of those choices I made that day," she told the judge Tuesday. "My actions set in motion that resulted in the death of a policeman but I did not kill the policeman."

In a testy exchange with the judge, Ramos' lawyer, Ron Kuby, pushed for a sentencing Tuesday, instead of Dec. 20, and said she wasn't a threat to the community.

"(Mosomillo's family's) position has not changed in 22 years. I don't know what will be gained by speaking with them in a month," Kuby said. "I understand you want to do due diligence. I just don't think there will be any new information."

Garaufis snapped back that he's only had two days to look at the case.

"I don't care if it was yesterday or 10 years ago or 20 years ago," Garaufis said. "When someone is murdered whether it's a police officer or otherwise I want to hear from the family and two days is not going to do it."