April 17, 2020, 5:00 AM
How the city failed cops, again
We should've been far more ready for coronavirus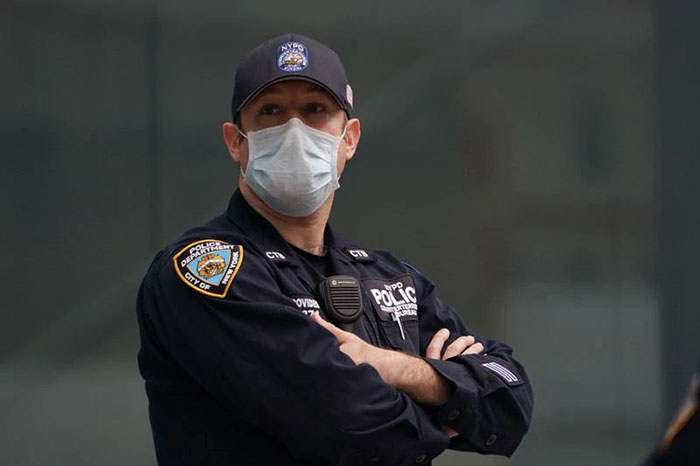 They're ready to protect us; let's make sure we protect them. (BRYAN R. SMITH/AFP via Getty Images)
NYPD members work for weeks or months while exposed to serious health hazards. They are given inadequate protective equipment. They aren't even told the truth about the dangers they face. As a result, thousands fall seriously ill.
Bottles of hand sanitizer are stockpiled by the thousands, then allowed to expire, rendering them ineffective when a pandemic hits and police officers need them.
A cache of protective masks is distributed to NYPD commands but never makes it to officers on the street. And they are the paper kind, not adequate protection against infectious disease.
Headlines from the COVID-19 pandemic? On the contrary, they're scenes from 9/11 and two other global health crises — Ebola and swine flu.
They're also evidence of how little our city leaders have learned from past crises. Then, as now, police officers' health was unnecessarily put at risk because our city failed to plan for, prepare for or even discuss the hazards honestly.
Why? Because New York's political culture is fundamentally broken. For too long, our elected leaders have prioritized short-term politics over long-term planning. The city's shortcomings in the current crisis were entirely foreseeable, because we have seen them all before.
In the weeks and months after 9/11, when we worked with handkerchiefs wrapped around our faces, we were told the air was safe to breathe. When that was proven a lie, they told us that the deadly aftermath of sickness from the lack of protection would not happen again.
But it happened again. It happened with the H1N1, swine flu and Ebola outbreaks, when we discovered each time that the supply of protective equipment and sanitizer was depleted or expired. It happened after Superstorm Sandy, when our members were sent to clean up floodwater-contaminated facilities without proper protection, until the PBA intervened.
It happened as recently as the 2018 steam pipe explosion in Chelsea, when the PBA filed a complaint with the state Public Employee Safety and Health Bureau (PESH) over inadequate hazard mitigation policies and protective equipment. Among violations issued by PESH was one for failure to provide members with N95 masks — the same that are again in short supply.
In every recent crisis, including the current one, the PBA has had to press the city to obtain the basic policies and equipment we need. The city's first response is always to deny the problem exists. And when they eventually relent and meet our demands, too much time has been lost, too many members needlessly put at risk.
Even worse, at the end of the crisis, our elected officials go right back to doing what they have been doing for years: appeasing the loudest voices on the steps of City Hall and the state Capitol.
Even now, in the middle of an unfolding disaster, many elected officials are focused on emptying the jails and prisons while cops and nurses struggle to obtain adequate supplies. Even correction officers, who remain on duty in facilities that are supposedly "too dangerous" to house criminals, were being forced to work without masks.
This is not what the vast majority of New Yorkers want or need. They want government to protect them during a crisis. That goal can't be accomplished unless government plans in advance to support and protect police officers and others on the front lines.
There needs to be a seismic change in the way our city, state and federal governments do business. Rather than worry about the latest item on so-called criminal justice reformers' wishlist, elected officials need to worry about whether our first responders have the equipment we need, well before we need it.
As police officers, we're trained to stay a step ahead of any potential threat. From the moment we roll up on a job, we start thinking about all the ways the situation can go wrong.
Politicians need to start thinking like police officers. Worst-case scenarios happen. We're living one now.