Amanda Bashi, Ramos' attorney, declined to comment after the sentencing. She had pushed to have Ramos released with time served, arguing that Ramos was under the spell of an abusive boyfriend when she participated in Mosomillo's murder and that because she has cancer and HIV that she doesn't have long to live.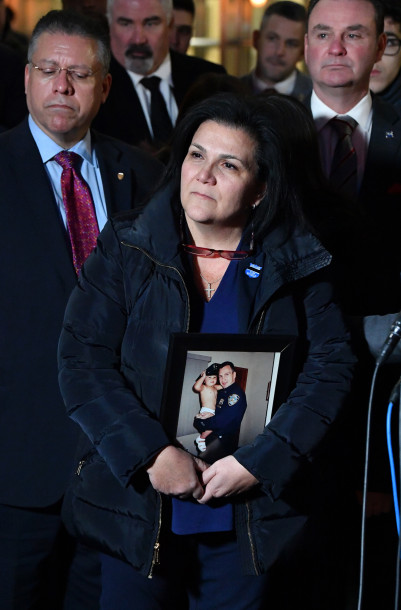 Anthony Mosomillo's widow Margaret holds a picture of her husband and daughter. Paul Martinka
Garaufis handed down the sentence after listening to harrowing victim impact testimony from Mosomillo's brother and his widow before a room packed full of members of the Patrolmen's Benevolent Association.
Miriam Torres, Mosomillo's partner at the time of his death, also provided a statement — she recounted her and Mosomillo's fateful meeting with Serrano and Ramos, her voice rising to a shout at times and occasionally jabbing her finger through the air at Ramos.
Torres said that, prior to the shoot-out in Ramos' apartment, Ramos tried to prevent Torres from slapping cuffs on Serrano. She also said that Ramos helped Serrano remove Torres' service weapon from her holster before Serrano used it to fire shots at Mosomillo.
Serrano shot Mosomillo dead at the scene and Mosomillo died later at Kings County Hospital.
To this day, Torres said at the hearing, she suffers from nerve damage from her fight with Serrano — as well as psychological issues and "survivor's guilt" from Mosomillo's death.
"That's never going to go away. Never going to go away!" Torres shouted at Ramos. "And it's because of you, you piece of s–t!"
Serrano was cleared on charges that she put her hand on Torres' gun, but her account of the incident to parole commissioners shifted over time, court records show.