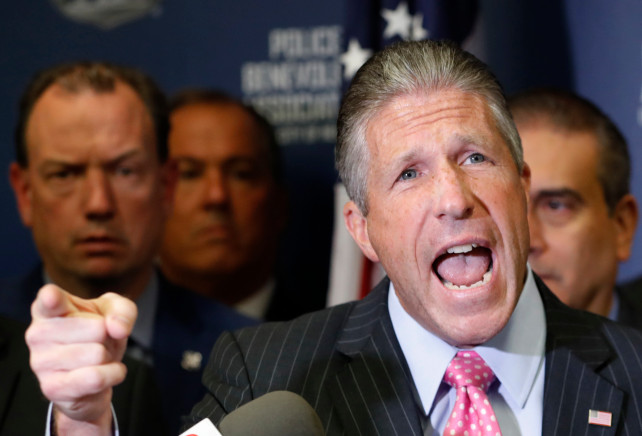 Police Benevolent Association president Patrick J. Lynch speaks to the media on Friday. AP.
Police Benevolent Association president Patrick Lynch called Friday "one of the saddest and most damaging days in the history of New York City and the New York City Police Departments.
"We just found out that no one will stand up for what's right against wrong," the police union chief said. "Our police officers, unfortunately, are in a position of having to protect themselves rather than spending time protecting you.
"The only hope for justice now lies with Police Commissioner O'Neill," Lynch said. "He knows the message that this decision sends to every cop: We are expendable, and we cannot expect any support from the city we protect. He knows that if he affirms this horrendous decision, he will lose his police department."
Garner's daughter Emerald Snipes Garner said the judge's report "confirms what we already knew."
"We have waited five years, and the time is now for justice," she said. "We are calling on Commissioner James O'Neill to follow the recommendation and fire Daniel Pantaleo now."
Mayor de Blasio, meanwhile, called Maldonado's decision part of "a fair and impartial" process that finally scrutinized Pantaleo's encounter with Garner.
Before O'Neill makes a decision on Pantaleo's fate, the Civilian Complaint Review Board, which prosecuted the administrative hearing against Pantaleo, and the cop's lawyer will have two weeks to submit motions. O'Neill is expected to issue a final determination on 13-year NYPD veteran Pantaleo sometime this month.
The mayor continued to take heat over the case from hecklers at his press conference who shouted "Fire Pantaleo" — similar to how he was interrupted at Wednesday night's Democratic presidential debate in Detroit.