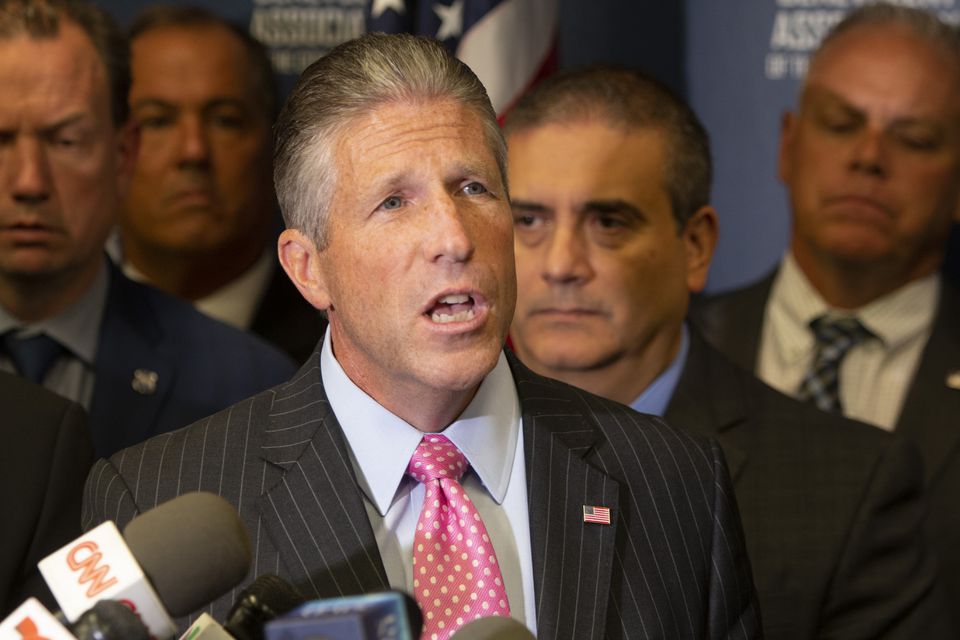 Police Benevolent Association President Pat Lynch addresses the press following a judge's recommendation to terminate the officer on Friday, Aug. 2, 2019. (Staten Island Advance/ Paul Liotta)
STATEN ISLAND, N.Y. -- The head of the city's largest police union slammed the judge's recommendation that came down Friday to fire the officer linked to the death of Eric Garner, and urged cops to take caution going forward.
Police Benevolent Association President Pat Lynch said officers should call their sergeants and Emergency Services Units if they find themselves in a situation where an arrestee chooses to resist.
"New York City police officers will now be considered reckless every time they put their hands on someone," Lynch said.
NYPD Deputy Commissioner of Trials Rosemarie Maldonado's recommendation to fire Police Officer Daniel Pantaleo was revealed Friday after his department trial ended in June.
Lynch and Pantaleo's lawyer, Stuart London, alleged that Maldonado reached her decision because of a misunderstanding of the law, and political pressure from her superiors.
London blamed Garner's death on his poor health, and said that his client intends to "fight going forward."
"At this point, we are going full-steam ahead," London said. "He's done nothing wrong. He's committed no misconduct."
Pantaleo was the officer who wrestled Garner to the ground by his neck as he repeatedly told authorities that he could not breathe. When cops told Garner he was being taken into custody, he refused. Garner later died.
"Today is one of the saddest and most damaging days in the history of New York City and the New York City Police Department," Lynch said. "The decision that was passed down today -- saying that this police officer was reckless -- is ludicrous."