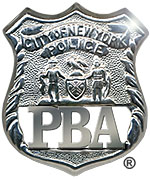 Contact: Joseph Mancini
212-298-9150
PRESS RELEASE
August 21, 2001
---
NYC PBA Files Federal class-action lawsuits charging pharmaceutical companies with illegally inflating prescription drug prices
New York City Patrolmen's Benevolent Association (PBA) President Patrick J. Lynch today filed four federal class-action lawsuits in four separate states charging nine brand-name and generic pharmaceutical companies with violating anti-trust laws by entering into agreements to keep much less expensive generic drugs off the prescription market at a multi-million-dollar yearly cost to consumers.
Named in the complaints were: Pfizer, Inc., and Mylan Laboratories, Inc., in a suit filed in the U.S. District Court in West Virginia's Northern District; Barr Laboratories, Inc., Zeneca, Inc., and Astrazeneca, PLC, in the U.S. District Court in New York's Eastern District; Schering-Plough Corporation, Upsher-Smith Laboratories and American Home Products Corporation in U.S. District Court in Newark, N.J.; and Bristol-Myers Squibb Co. in the U.S. District Court for the District of Columbia.
Primary victims of these anti-trust violations, according to the suits, were the elderly, breast cancer sufferers and people suffering hypertension, angina and anxiety.
"These allegedly illegal agreements between between brand-name and generic companies force us, our members and others to pay artificially high prices for very important, common medications," said Lynch, who is plaintiff in the suits in his capacity as trustee for two health and welfare funds that provide benefits for some 46,000 active and retired New York City police officers. "Our union and our members have been squeezed by these inflated prices and we are bringing these lawsuits to fight back."
The complaint filed in West Virginia alleges that Pfizer, maker of Procardia XL 30 ñ which is prescribed for hypertension and angina ñ struck an agreement with Mylan Labs that, in effect, extended Pfizer's monopoly over the drug and its generic equivalents. The agreement followed a 1997 lawsuit brought by Mylan, one of the nation's largest manufacturers and marketers of prescription generic drugs, challenging Pfizer's patent for the drug in its most popular, 30-milligram size. After Pfizer counter-sued for patent infringement, the companies settled on Feb. 28, 2000, agreeing that Mylan would market Pfizer's licensed generic instead of the FDA-approved generic product developed by Mylan.
Because of this agreement, according to the complaint, there was no true generic competition for Procardia XL 30 through  at least Feb. 6, 2001, and the PBA had no choice but to pay inflated prices for the drug.
The complaint filed in New York's Eastern District alleges that Zeneca and Astrazeneca, makers of tamoxifen ñ the most widely perscribed breast cancer drug ñ and Barr Labs unlawfully cooperated to  maintain artificially high prices for the drug and block the introduction of a cheaper generic. The complaint details how Barr successfully challenged Zeneca's tamoxifen patent in 1992 but then, instead of introducing its own generic version, signed a "confidential settlement agreement" dropping its patent challenge in exchange for the exclusive right to sell a Zeneca-manufactured generic for only five percent less than Zeneca's brand-name version, Nolvadex. Generics typically sell for from 30 to 80 percent less than brand-name drugs.
According to the complaint, there has been no price competition for tamixofen as a result of the agreement between Zeneca and Barr. Last year Astrazeneca (successor company to Zeneca after a merger) made over $500 million in revenues from Nolvadex, while Barr reaped over $350 million ñ 66 percent of its sales ñ from its "generic" tamixofen.
The complaint filed in Newark alleges that the PBA, its members and other consumers have been paying artificially inflated prices for more than three years because of an illegal agreement reached by Schering-Plough ñ maker of K-Dur20 ñ American Home Products and the privately-held Upsher Labs. The complaint alleges that the deal provided for Schering-Plough to pay Upsher-Smith and ESI Lederle, Inc. (a division of American Home Products), more than $80 million to delay their generic versions of K-Dur20, preventing any other generic forms of the drug from entering the market. According to the complaint, Schering-Plough, itself, has estimated that the first year of low-priced generic competition would decrease its K-Dur20 sales by more than $30 million.
K-Dur20, a potassium supplement used in conjunction with medication for high blood pressure, is the fourth most prescribed drug for the elderly.
The complaint filed in the District of Columbia alleges that Bristol-Myers Squibb illegally extended its monopoly on BuSpar, a commonly prescribed anti-anxiety drug. Bristol allegedly filed false patent information with the FDA, effectively locking generic competitors out of the market from Nov. 22, 2000, through March 28, 2001, while the federal agency was considering its falsified patent claims.
The PBA is being represented in these lawsuits by Jeffrey J. Corrigan, with the firm Spector, Roseman & Kodroff. Corrigan, a former federal prosecutor in New York, can be reached at 888-844-5862.