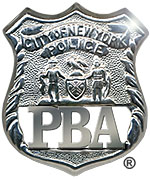 Contact: Joseph Mancini
212-298-9150
PRESS RELEASE
April 16, 2001
---
PERB Victory
The New York City Patrolmen's Benevolent Association (PBA) won an historic victory today in its battle to win a fair wage package for its 27,000 members when a State Supreme Court Justice ruled that the so-called PERB bill is constitutional.
The bill, long sought by the police union and long opposed by the Giuliani administration, provides for state arbitration of the PBA's contract impasse with the city under the auspices of the Public Employment Relations Board (PERB).
"Everyone knows that we cannot hire and retain police officers and there is a critical shortage of applicants for the latest police exams," said PBA President Patrick J. Lynch. "Now we also know that the PERB law is constitutional and that the process that should lead to our officers getting a decent wage increase – which should solve those recruitment and retention problems – will go forward."
In today's decision in Albany, Supreme Court Justice Bernard J. Malone, Jr., granted the PBA's motion declaring the 1998 PERB law constitutional and denied the city's motion for an order declaring the 1998 PERB law in violation of the Home Rule provision of the State Constitution.