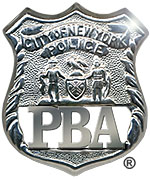 PRESS RELEASE
May 6, 2003
---
33,000 gunlocks donated to protect children of NYPD Officers
Project ChildSafe is donating 33,000 gunlocks to the members of the NYPD through the Patrolmen's Benevolent Association, enough for every sworn member of the department, in an effort to prevent gun accidents in the homes of the city's police officers, it was announced today by PBA President Patrick J. Lynch, Bill Brassard the Director of Project ChildSafe and Doug Painter, the president of the National Sports Shooting Foundation that administers the program.
The locks provided are simple and effective cable lock devices that can render virtually any type of handgun inoperable when appropriately applied. Project ChildSafe is funded by a U.S. Department of Justice grant.
"A gun is simply a tool of the trade in the policing profession that carries with it a tremendous responsibility," PBA president Lynch said. "A recent tragedy involving a police officer's child reminds us that we must take every possible precaution when our weapons are at home. This simple locking device is very effective in protecting our families, particularly children, against the possibility of discharge. We are very grateful to Project ChildSafe for this very generous donation," Lynch concluded.
Mr.Painter said: "In cooperation with the US Department of Justice, The National Shooting Sports Foundation is proud to join with The New York City Patrolmen's Benevolent Association in providing New York's police offices with firearm safety locks through Project ChildSafe. Since 1999, we have worked closely with many hundreds of police departments nationwide in providing home firearms safety education and are particularly proud to now partner with New York's finest."
Mr. Brassard said: "By promoting the message of proper firearm storage in the home, the Patrolmen's Benevolent Association is raising awareness about firearms safety among law enforcement officers and consumers everywhere," said Bill Brassard of NSSF, Project ChildSafe's director.