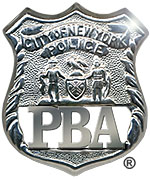 PRESS RELEASE
May 15, 2003
---
Evidence of ticket quotas and "Don't Blame the Cop" campaign
Presenting evidence that police officers face reassignment or other punitive action for failure to meet summons quotas, PBA President Patrick J. Lynch unveiled a print and radio-advertising campaign today targeted to reduce the public's anger towards officers forced to write high-priced tickets to raise revenue for the cash-strapped city.
The print ad for the campaign called "Don't Blame the Cop" shows an irate motorist furious with a young police officer for issuing her a $105 ticket. It asks the public to place the blame for more summonses, increased fines, reduced services and a depleted police force on City Hall. The 60-second radio spot voiced by Pat Lynch carries a similar message (text attached.)
"Today, as we launch our 'Don't Blame the Cop' campaign, we are sharing hard evidence that our police officers are being pressured to write high-priced summonses at the risk of reassignment or other punitive action," Lynch said. "This type of evidence is very difficult to acquire because most supervisors will not put it writing, but instead threaten officers verbally. We are concerned that the pressure to write more high-priced summonses will erode the relationship our officers have with the communities they protect."
A hand-written note from a Lieutenant in the 50th Precinct to a Sergeant clearly shows that failure to write adequate numbers of summonses will result in a change of hours or assignment. The note states: "I'm recommending to the C.O. that (officer's name) be re-assigned off late tours. I'm dissatisfied with his enforcement activity again."
Regarding a different police officer, the note says: "He only wrote 16 summonses for the entire month and if they were written on O.T. his job on the 1st platoon is also in trouble."
Two internal NYPD reports – one from a borough commander the other from a precinct commander -- demonstrate the dissatisfaction with officers writing tickets for broken equipment such as broken stoplights or head light because they do not generate revenue if the violator proves that he or she had the problem repaired.
One report states that a chief "…maintains that equipment violations (defective lights, taillights) are not 'good' summonses and must be reduced to less than 10% of all total movers."
The other report explains that supervisors will have to explain the issuance of broken equipment summonses.
"These reports demonstrate the intense pressure and focus in the NYPD on writing specific types of summonses that result in large fine payment," Pat Lynch said. "Our police officers are caught between a rock and a hard place. They have to issue revenue-generating summonses, and lots of them, or they are punished."
The 60-second radio spot will hit the airwaves on Monday, May 19th on key radio stations and full-page print ads will appear in various newspapers the following week.