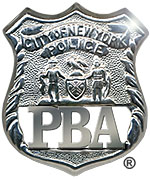 PRESS RELEASE
October 24, 2003
---
NYC PBA is first municipal union to endorse Schumer for reelection
Standing in front of the 13th Precinct in Manhattan, PBA President Patrick J. Lynch and the union's executive board announced the New York City Patrolmen's Benevolent Association's endorsement of Charles E. Schumer for reelection to the United States Senate. The NYC PBA is the first municipal labor union to endorse Senator Schumer's bid for reelection.
"The New York City Patrolmen's Benevolent Association is proud to be the first municipal union to endorse U.S. Senator Charles E. Schumer for reelection," Lynch said. "Senator Schumer has earned our support through his strong and steadfast advocacy of law enforcement and gun control initiatives. In this time of heightened alert against terrorist acts, Senator Schumer secured the single largest share of federal funds allotted to police departments for the NYPD. While the number of NYC police officers shrinks to dangerously low levels, those funds are helping to keep sorely needed police officers on our streets. He is a staunch supporter of gun control and is a constant and aggressive advocate for a ban on assault weapons and cop killer bullets. The members of the NYC PBA know that when the chips are down, we can count Senator Charles Schumer."
Senator Schumer said: "I couldn't be prouder to stand with the men and women who made New York the safest large city in the United States. Since we began the War on Terrorism, the lives of every member of New York's Finest -- and those of their families -- have changed completely so that life for the rest of us could return to normal. I am honored to receive their endorsement."
The New York City Patrolmen's Benevolent Association is the nation's largest municipal police union representing all 23,000 active police officers of the NYPD and approximately 50,000 police retirees.