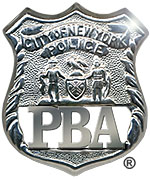 PRESS RELEASE
June 7, 2003
---
Pat Lynch wins in landslide victory
Patrick J. Lynch has been reelected as president of the New York City Patrolmen's Benevolent Association in a landslide victory taking 70 percent of the popular vote as tallied by the American Arbitration Association. Also overwhelmingly reelected were the other five top members of the PBA's executive board: 1st vice president John Puglissi; 2nd vice president Mubarak Abdul-Jabbar; treasurer Joseph Alejandro; recording secretary Robert Zink and city-wide trustee Brian Mooney.
Of the 11,929 ballots cast, 8,308 were cast for Lynch, the incumbent in the race, with only 3,621 going to challenger, Thomas Barnett.
"I am pleased to have the overwhelming trust and confidence of the hardest working and most courageous police officers in America," Lynch said. "New York is a tough town where its police officers work harder and take greater risks than virtually any other city in the United States. This PBA administration will continue to fight hard to win the appropriate levels of compensation and respect for our police officers who risk their lives everyday to keep New York City safe and economically viable."
Among the Lynch team's successes during their first four-year term in office are: saving the health and welfare funds from insolvency; improving dental, optical and health benefits for active and retired officers for the first time in decades: breaking the contract pattern in a contract achieved through binding arbitration; winning significant pension and legal victories: improving communication between the PBA and its membership: establishing the PBA as the voice of New York's police officers through aggressive media relations.
Mr. Lynch was first elected as head of the nation's most powerful police union in a hotly contested race in 1999.