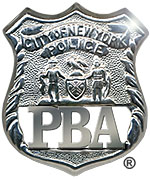 PRESS RELEASE
December 13, 2003
---
PBA honors fallen members with holiday party for families
Scores of children of police officers killed in the line of duty were showered with gifts, had a visit with Santa Claus and mingled with television and movie stars at the annual New York City Patrolmen's Benevolent Association Widows and Children's Holiday Party held in Bridgewaters at the Fulton Market who donated the space and refreshments.
"The annual holiday party is to focus on the living in a bright and cheery event that shows the families of our fallen heroes that they will never be forgotten," said Patrick J. Lynch, the PBA's President. "It's at time for Santa and toys and showing these families a great and festive time for the holidays."
Cast members from television shows Whoopi, Third Watch and Sex and the City dropped by as did Santa Claus, Police Commissioner Raymond Kelly and former New York Jet "Sack Exchange" member and Football Hall of Fame candidate, Mark Gastineau.