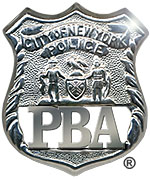 PRESS RELEASE
April 22, 2008
---
PBA helps Police Officers find better paying Jobs
The New York City Patrolmen's Benevolent Association is offering to list job vacancy notices from better paying police departments for free in their in-house magazine and on their website as a service to their members who are frustrated and angry about their inadequate top salary.
PBA president Patrick J. Lynch said: "If the city of New York won't pay our members a fair and reasonable salary for the dangerous job that we do, then we will have to help our members find jobs in cities that will appreciate their work and pay them fairly.
"It is difficult to describe the level of anger and frustration among New York's veteran police officers who need only look over the border or across the river to find other police departments that pay $20,000 to $40,000 a year more at top pay. Our members are sick and tired of the rhetoric that praises us for our work, credits us for making the city economically viable and then tells us that the richest city in America can't afford to pay its police as much as cities with smaller tax bases and lower property values. It's no wonder that the number of veteran officers who quit the NYPD without a pension has increased over 600% since 1991. And that will continue until New York complies with the Taylor Law and pays its police officers a market rate of pay."
The PBA Magazine New York's Finest publishes quarterly and is the only way to reach active and retired police officers directly at their homes. The PBA's website, NYCPBA.org, is accessed regularly by New York's police officers for information of interest to them and for employment opportunities.