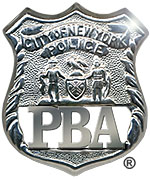 PRESS RELEASE
April 24, 2008
---
PBA makes effort to correct mayor's misinformation efforts
NYPD document pins recruiting problem to increase in college requirements three years before an arbitration panel lowered starting pay; uncompetitive top pay caused recruiting problem
An NYPD document issued to hire outside consultants to boost recruiting efforts cites the 1995 increase in educational requirements to become a police officer as the cause of the NYPD's recruiting problem supporting the PBA's argument that uncompetitive top pay is making potential candidates look elsewhere for fair paying jobs in law enforcement.
The NYPD sought a recruitment consultant three years before the June 27, 2005 arbitration award that lowered police starting pay to $25,100. An NYPD RFP (request for proposal) dated May 8, 2002 sought to hire a consultant to perform "recruitment, advertising, and production services" pinpointed the 1995 increase in college requirements as the cause of the NYPD's inability to recruit adequate numbers of qualified police recruits. The contract was valued at $30 million over five years.
PBA president Patrick J. Lynch said: "In May of 2002, three years before an arbitration panel lowered starting pay at the city's behest and over the PBA's vehement objections, the NYPD put out for consideration a contract worth $30 million dollars for advertising and marketing help to attract recruits. The document states specifically that the difficulty attracting qualified recruits was a direct result of increasing the college requirements and that the NYPD had no problem finding adequate numbers of candidates when only a High School diploma was required.
" The increased educational requirements and an increase in minimum age to become a police officer came from the same mayoral commission that also recommended a significant increase is police salary. Despite the constant repetition of the Mayor's misinformation message, it was the city's failure to raise the salary when raising the educational requirements that laid the groundwork for the NYPD's current recruiting crisis and gave birth to a massive increase in the numbers of veteran officers – almost 1,000 a year -- who quit for better paying jobs. The only way the NYPD will be able to attract mature and better educated candidates and to keep fully trained and experienced veteran officers on the job is to offer a top pay that is competitive with other local jurisdictions. If the PERB arbitration panel fails to make police top pay competitive, it will not only have condemned the future of the NYPD but it will imperil the safety of New York's streets and neighborhoods."
Click here for an excerpt of the pertinent section of the 2002 NYPD RFP. Copies of the entire document are available at the PBA office.