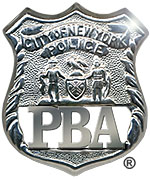 PRESS RELEASE
August 14, 2008
---
PBA opposes cop-killer parole
Twenty-eight years and seven months ago, paroled ex-convict and robbery suspect Salvatore ("Crazy Sal") Desarno shot Police Officer Cecil Sledge four times at close range, then ran over him with his car and dragged the body for almost half a mile. Now that cop-killer is up for parole again, and the police union wants to keep him behind bars.
"This hardened criminal killed a police officer the last time he was released on parole," said New York City Patrolmen's Benevolent Association (PBA) President Patrick J. Lynch. "Why would you trust him to be released again? Anyway, no cop-killer should ever get the chance to walk the streets a free person."
The PBA has formally requested that the State Division of Parole deny Desarno his freedom.
Sledge, 35, was a highly-decorated 12-year veteran assigned to the 69 Pct. when he was patrolling without a partner in the Canarsie section of Brooklyn on Jan. 28, 1980, stopped Desarno on suspicion of robbery, and was killed by the suspect. The officer left a widow, a toddler son and a baby daughter.
The widow, Linda Sledge, and other family members are scheduled to deliver victims' impact statements at a hearing scheduled for 11 a.m. at the State Division of Parole, 250 Fulton St., Hempstead, L.I.
Sledge's killing prompted then-Police Commissioner Robert McGuire to suspend an experiment in one-cop patrol cars.