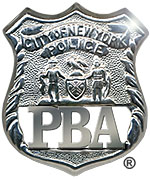 PRESS RELEASE
October 20, 2008
---
PBA opposes term limits
New York City Patrolmen's Benevolent Assn. (PBA) President Patrick J. Lynch today announced his support for City Council legislation to allow Mayor Bloomberg, council members and other city term-limited city officials to seek a third term.
"This PBA has always been opposed to term limits because it costs us the experience and wisdom that only comes with time in office," he said. "By the time elected officials learn the job and become effective, they are forced to move on, limiting our ability to keep the best and brightest in office. Although we support outright repeal of term limits, if that is not an option we support extending the limit from two to three terms."
Lynch made his remarks on the City Hall steps accompanied by Council members Dominic Recchia, Leroy Comrie, Michael Nelson, Lew Fidler and others.