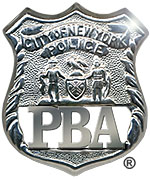 PRESS RELEASE
May 19, 2008
---
PERB award in police contract issued; Century-old pay parity with firefighters broken; Third consecutive pattern breaking award
Recognizing the substantial pay disparity between NYC police officers and police elsewhere, a state arbitration panel has, for the third consecutive contract, awarded a significantly higher pay raise to police officers than was awarded to other unions and has shattered a century-old lock-step parity relationship with firefighters. Starting pay for police officers is increased retroactively but is offset by an unwarranted loss of 10 vacation days for future hires.
The decision came down from the three-person Public Employment Relations Board (PERB) panel on Monday, May 19th awarding police officers 4.5% and 5% (9.73% compounded) for the two-year contract covering August 1, 2004 through July 31, 2006. The award, which is entirely retroactive, increases the top pay for veteran police officers from $59,588 to $65,382 and starting pay for police officers from $25,100 to $35,881 retroactive for those hired since January 1, 2006. The city's offer of 3% and 3.15% to the PBA during the two-year contract period was deemed inadequate and rejected by the panel.
PBA president Patrick J. Lynch said:
"This decision sends a strong message to the City of New York that times have changed and old, out-dated and ineffective traditions of pattern bargaining and lock-step parity no longer satisfy the modern needs of this city. It confirms that the Taylor Law's provisions are paramount in setting fair and reasonable wages and that pay should be based upon the responsibilities employees have, the hazards and dangers they face, the skills and education required for the job and not antiquated pay relationships of a bygone era.

"By issuing this historic award, this panel hopefully has sown the seeds that will compel the City to bargain in good faith with PBA in the future. We will immediately initiate the process that we hope will result in a fair and reasonable police officers' contract for the 2006/2008 contract period."

"While we are pleased that this is a pattern and parity breaking award, we are disappointed that it does not go far enough towards making our pay competitive with other police departments. Even with this 9.73% raise in pay, we will still rank at the bottom of the pay scale when compared to other local departments and that means that the NYPD will still struggle to fill a recruit class and to keep their veteran officers patrolling our own streets because of an uncompetitive pay structure. Our members will still look across borders to see others working in law enforcement earning as much as $30,000 a year more for work in less challenging environments and with lower costs of living in communities not nearly as prosperous as New York."
The Patrolmen's Benevolent Association of the City of New York is the bargaining unit for the 24,000 men and women who serve in the title of police officer and is the largest municipal police union in the nation.