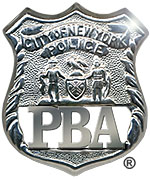 PRESS RELEASE
September 25, 2008
---
Police contract overwhelmingly approved
New York City police officers overwhelmingly approved the tentative contract reached between the city and the PBA according to a count performed by the American Arbitration Association, it was announced by PBA president Patrick J. Lynch.
With 17,615 ballots cast, a total of 17,516 (99.4%) approved the first negotiated labor agreement between police and the city since 1994. A total of 93 votes against ratification were cast and 6 ballots were submitted blank. The 99.4% ratification vote is the highest percentage ratification processed by the American Arbitration Association in at least 15 years the AAA noted.
PBA president Patrick J. Lynch said:
"We are pleased by the massive support for this historic settlement which includes provisions that ensure continued salary growth and substantial health and welfare benefits for our members long into the future. The overwhelming approval of this contract by our members demonstrates our unity of purpose and our willingness to stand strong together for the fair treatment that we have earned and deserve."
The New York City PBA is the nation's largest municipal police union representing over 24,000 active police officers.