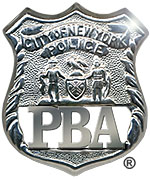 PRESS RELEASE
December 13, 2008
---
Widows and Children's holiday party
Scores of children of police officers killed in the line of duty and their families were showered with gifts, had a visit with Santa Claus and mingled with celebrities at the annual New York City Patrolmen's Benevolent Association's Widow's and Children's Holiday Party hosted by Peter and Penny Glazier at their restaurant "Bridgewaters" at the Fulton Market.
"We are here today to bring good cheer and fun to the families of our fallen heroes and to show them that they will never be forgotten," said NYC PBA president Patrick J. Lynch. "It's a time for Santa and toys and showing these families a great and festive time for the holidays."
Lynch added: "The PBA is very grateful to Peter and Penny Glazier of Bridgewaters for hosting this very special party again this year and to all of the celebrities who graciously joined us. We are also grateful to all the organizations whose generosity helps us to bring some happiness into the lives of the families of our fallen heroes.
The PBA is particularly grateful to the following organizations for their support of this year's Widows and Children's Holiday Party: Macy's, Modells, PC Richards, Udi Avshalom of Training Camp, the NY Rangers, The NY Yankees, the NY Giants, the NJ Nets and Cablevision, Monday Night Magic.