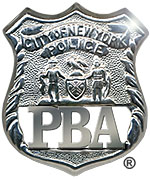 PRESS RELEASE
March 28, 2008
---
Police Union President slams congestion pricing, calling it a "pay cut" for New York's Finest
Patrick J. Lynch, president of the Patrolmen's Benevolent Association (PBA) today came out strongly in opposition to Mayor Bloomberg's controversial congestion-pricing plan, saying that it would be tantamount to a $2,000 pay cut for New York City¹s police officers who work in the designated area.
"Eight dollars a day, five days a week comes to $2,000 over the course of a year — and that's just too much to ask of the men and women who risk their lives fighting crime and terrorism in this city," Lynch said.
Police officers are permitted to live in suburban counties outside the city where public transportation is not always available, the union leader pointed out. The plan would be a particular hardship for their members who work 4 PM to midnight tours, he added.
"The cost of this unwise plan would cut a police officers' take-home top pay by 5% at a time when the NYPD is already having an impossible time recruiting and retaining police officers," said Lynch, who represents 23,000 police officers in the city¹s largest police union.
The congestion-pricing plan is scheduled for a vote on Monday before the City Council.
"A vote for congestion pricing is a vote against New York City's police officers," Lynch said.