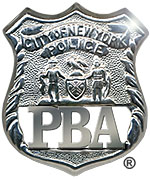 PRESS RELEASE
June 11, 2009
---
Unions picket governor's birthday fund raiser
Outraged by Governor Paterson's stealth veto of 36 year-old Tier II legislation that defines pension benefits for the uniformed forces, Uniformed Firefighters' Association (UFA) and Patrolmen's Benevolent Association (PBA) members took to the streets with informational flyers and picket signs outside of Paterson's high profile 55th birthday fund raiser at the Mandarin Oriental hotel on Columbus Circle.
The Tier II legislation has defined pension benefits for uniformed services since 1973 and has been continuously renewed since 1981. The Governor's failure to renew it has put future firefighter and police hires in a state of limbo regarding retirement benefits.
"The Paterson Administration has launched an unprovoked attack against firefighters and police officers who risk their lives daily," said Steve Cassidy, UFA President. "Risking our lives for the public is part of our job, but future firefighters now have no death and disability benefit protection for their family following the governor's veto. This throws the city's ability to hire firefighters and police into jeopardy."
Mr. Cassidy continued,
"I will leave it to the governor to explain at the next FDNY funeral why firefighters no longer have death and disability benefits. Being a New York City Firefighter is too dangerous and I don't see how the governor can ask a firefighter to enter a burning building, lacking the basic death and disability benefit protections afforded to them under Tier II. Has the Patterson Administration forgotten 9-11 already?"
PBA president Patrick J. Lynch said:
"New York City police officers are already among the lowest paid big city police in the nation and now the Governor wants to reduce our pensions. This is a misguided attempt to close the state's budget gap on the backs of the firefighters and police officers. It is beyond dispute that no money will be saved in the current state budget as a result of this veto and that any significant savings will not be realized for 30 years.
"Additionally, changing firefighter and police pensions will have dire consequences for the future. The uniformed pension is virtually a standard in the law enforcement profession across the nation. Any reduction in pension benefits will make the NYPD uncompetitive in the recruiting market for future police officers.
"Furthermore, it is simply wrong to expect the people who risk their lives everyday and make the city safe and economically viable to shoulder the burden of losses created by Wall Street's greed. Firefighters and police officers should not have to pay for the sins of Wall Street."