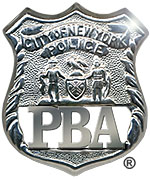 PRESS RELEASE
September 29, 2009
---
"Zadroga" bill ignores WTC-related cancers already experienced by responders
The NYC Patrolmen's Benevolent Association opposes the federal legislation named for deceased NYC police detective James Zadroga calling it painfully inadequate because it does not cover the cancers and blood diseases that are rapidly developing in responders from exposure to the unprecedented toxic catastrophe at the World Trade Center (WTC), PBA president Patrick J. Lynch said today. 
The nation's largest municipal police union believes that the bill, as it is written, ignores recent findings by several hospitals, including the Mt. Sinai WTC Treatment Program, of unusually high occurrences of multiple myeloma and leukemia in responders.  The bill, which does not include cancers and blood disease as covered illnesses, will ultimately make it more difficult, and in many cases impossible, for stricken WTC responders to receive the quality, cost-free treatment they deserve for illnesses resulting from exposure at the site.  The legislation establishes an unreasonable standard of scientific proof that is nearly impossible to achieve in order to be covered for other illness that are known to result from exposure to toxins and carcinogens.
PBA president Patrick J. Lynch said:
"There is an abundance of data demonstrating that the toxic soup resulting from the attack on the WTC contained more cancer-causing materials than any other environmental disaster ever recorded.  So it should be no surprise that those who were exposed are developing many kinds of cancers at an unusually high rate.  The Zadroga bill includes a process for designating an illness as WTC related that is unreasonable.  These sick heroes simply cannot wait for scientific proof to catch up to their illnesses.  They are sick now and need treatment and support today.  Many will not survive to see science verify what we, and they, already know to be true: that their cancers were caused by WTC related exposure.  The government must honor its obligation to those brave men and women made sick by exposures at the WTC by including obvious exposure related illnesses like cancers and leukemia in this legislation."
Ironically, the present bill provides for assistance for carpal tunnel syndrome, a repetitive stress injury more associated with typing than rescue work while failing to include assistance for cancers, loss of organs, blood disorders and skin diseases resulting from exposure to workers at the WTC site.  Additionally, the bill will cover "issues such as marital and parental problems which are secondary to another identified WTC health condition" but does not include the various cancers and blood diseases that are caused by exposure to toxins and carcinogens.