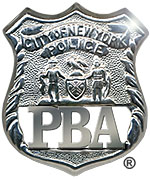 PRESS RELEASE
June 9, 2011
---
Pat Lynch re-elected PBA President for a fourth term
The incumbent members of the Executive Board of the NYC PBA were returned to office for another four-year term beginning July 1st.   While PBA president, Patrick J. Lynch, and 1st VP, John Puglissi, were unopposed in the 2011 election, there were challenges for the office of 2nd VP, Treasurer, Recording Secretary and Citywide Trustee,  all of whom prevailed by an overwhelming margin.  In borough-wide races, 19 out of 21 incumbents were re-elected to office.
PBA president Patrick J. Lynch said:
"It is both personally and professionally gratifying for our team to receive the overwhelming vote of confidence in this administration's ability to represent the brave men and women who serve as New York City police officers.  We have turned this union into a true, professional service organization for our members and I am proud to have our team re-elected so that we can continue to fight for the rights of the greatest police officers in the country.  It is a great honor to serve New York's Finest."
CITYWIDE ELECTION RESULTS
2 VP: incumbent Mubarak Abdul-Jabbar 5,800 – challenger Marco Varela, 1,706
Treasurer: incumbent Joseph Alejandro, 5,693 – challenger Patrick O'Sullivan, 1,791
Recording Secretary: incumbent Robert Zink, 5,842 – challenger Patrick Weber, 1,614
Citywide Trustee: incumbent Thomas Hellem, 5,911 – challenger Bernaldino Padilla, 1,581
BOROUGH RESULTS
Of the 21 borough board members, only three were opposed in this election.  Here are the results in those races:
Bronx Financial Secretary: challenger Brian McGuckin, 679 - incumbent Gregory Manning, 575

Transit Bureau Financial Secretary: challenger Corey Grable 363 - incumbent Keenan Scott, 307 – challenger Patrick Kerby, 113

Transit Bureau Trustee: incumbent Michael Morgillo, 624 – challenger Jonette Warren, 147.