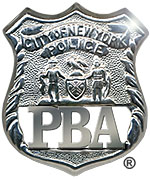 PRESS RELEASE
October 6, 2011
---
Pat Lynch slams judge For bad bail call
Judge Joann Lopez of Brooklyn Criminal Court today granted bail to Eric Greenidge who was on parole when he was involved in a shootout this past Monday during which off-duty police officer Dawn Foster, who was driving nearby, was shot.  Judge Lopez granted bail despite the full disclosure of his criminal history and parole status and a strenuous argument by a Brooklyn Assistant District Attorney to have Greenidge remanded to custody.  Outraged by Judge Lopez's poor decision, PBA president Patrick J. Lynch is calling for the immediate revocation of bail and the prompt incarceration of Greenidge.
PBA president Patrick J. Lynch said:
"In the annals of lousy calls, this one is particularly bad and it needs to be rectified before this thug hurts or kills anyone else.  It is an outrage that on the very day that he visited his parole officer this gun-toting punk gets into a gun battle on the busy streets of Brooklyn where an off-duty police officer is hit in the crossfire.  Given the level of violence on our streets and the proliferation of guns in this city, how bail can be granted to a convicted criminal under these circumstances defies logic.  Eric Greenidge has violated the conditions of his parole and he should be returned to prison to serve the remainder of his jail sentence while awaiting trial for this shooting.  The police cannot do this job alone.  The courts must make rational decisions that are in the best interest of public safety if we are to make our streets safe."
Eric Greenidge, who was serving time for a robbery, was paroled in July 2011 and was to remain on parole until March 2014.