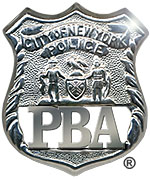 PRESS RELEASE
September 12, 2012
---
Out on parole, he kills a cop and is up for parole again. PBA seeks public support to deny all cop-killers early parole release with an easy-to-use web page
Thirty-two years ago a hardened criminal named Salvatore "Crazy Sal" Desarno murdered police officer Cecil "Frank" Sledge in Canarsie's 69th Precinct.  Crazy Sal was out on parole for an armed robbery when he shot the officer during a car stop and then ran him over dragging the officer for a quarter mile leaving him dead in the street.  Desarno is up for parole again this week and the PBA is seeking the help of the law-abiding public to deny parole to all cop-killers by expressing their wishes to the parole board through a new, easy-to-use "Keep Cop Killers in Jail" webpage.
PBA president Patrick J. Lynch said:
"Today's cop-killers can be sentenced to life in prison without parole. Sadly, that wasn't always the case and there are literally hundreds of dangerous cop-killers each year who are given a shot at freedom through parole. It has long been the PBA's position that anyone who kills a police officer would not think twice about killing a civilian and that they represent too much of a danger to be released onto our streets. To that end, the PBA has designed a simple-to-use web page that will send a letter of objection from the user to the parole board for one or even all cop-killers."
To use the page, simply logon to www.NYCPBA.org and click on the "Keep Cop Killers In Jail" icon and follow the simple steps.  The page gives the user an option to send a letter of objection for a specific cop-killer or the user can send individual letters for all cop-killers simply by checking the "Send a letter for all cop-killers" box.  The list of cop-killers who are up for parole is changed quarterly and the user can opt to be notified when a new list is posted.
Letters of objection to the parole board are added to each inmate's folder and they become a part of the consideration process by the parole board which weighs every case individually.