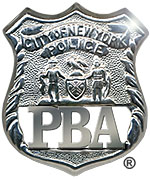 PRESS RELEASE
September 20, 2012
---
PBA's new "Keep Cop-Killers in Jail" webpage generates over 100,000 responses during first week
The "Keep Cop-Killers In Jail" webpage designed by the PBA to make it easier for its officers and the public to oppose the release of convicted cop-killers has generated 133,454 individual letters in its first week of operation.  The letters, which are delivered electronically directly to the state's parole board, are added to each inmate's folder and become a part of the record as the board considers the possible release of each individual cop-killer once their minimum sentence has been completed.  The webpage, which can be found at www.nycpba.org, went live on September 12th.
PBA president Patrick J. Lynch said:
"We are always asked by concerned members of the public what they can do to help the families of our officers who were killed in the line of duty.  One way is to help keep the killers of their loved ones in prison where they belong and now the PBA has developed a simple and cost-free way to do that from your computer.  With over 19,000 letters a day generated during the first week of operation, we are very grateful to the thousands of people who have already taken advantage of the webpage.  We hope that many more will visit the union's website at www.nycpba.org to share their opposition as well.  Today, cop-killers can be sentenced to life in prison without parole, but that was not always the case and literally dozens of cop-killers are considered for early release through parole each month.  We believe that cop-killers should never be free to walk our city's streets again and we encourage anyone who shares that belief to voice their objection to the parole board through our website." 
To use the page, simply logon to www.NYCPBA.org and click on the "Keep Cop-Killers In Jail" icon and follow the simple steps.  The page gives the user an option to send a letter of objection for a specific cop-killer or the user can send individual letters for all cop-killers simply by checking the "Send a letter for all cop-killers" box.