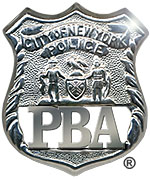 PRESS RELEASE
November 7, 2013
---
Anticipating the mayor-elect's withdrawal of challenge to stop and frisk suit, police unions file a new motion to intervene
Citing the Mayor-elect's promise to withdraw the city's challenge to the "stop and frisk" case, the four police unions representing 29,000 of the NYPD'S 35,000 sworn members will file a motion today with the US court of appeals in the second circuit to intervene in the case noting that the potential withdrawal of the City's challenge will leave police officers and the public without a means to challenge a decision that will have significant impact on both police operations and public safety.
PBA president Patrick J. Lynch said: 
"These unions, representing the vast majority of the sworn members of the NYPD, previously filed a motion to intervene in the district court whose decision has since been stayed until the conclusion of this appeal.  However, the outcome of this appeal will directly affect the reputation of all NYC police officers and the daily activities and collective bargaining rights of 29,000 sworn members of the police department including their training, discipline and their very safety.  In order to ensure that our members have a voice in this critically important proceeding we are filing a motion to intervene in the second circuit court of appeals today."
The case, Floyd v. City of New York, was heard by a federal judge who ruled that the action of the NYPD in the use of the stop, question and frisk tactic was unconstitutional and appointed a federal monitor for the NYPD.  On Sept. 11, 2013, the four unions representing police officers, detectives, lieutenants and captains and above filed a motion to intervene in the case.  The lower court judge's decision was stayed by the court of appeals who then removed her from the case calling her impartiality into question and noting that she "ran afoul" of judicial ethics.
The motion will be filed by Dechert LLP's Steven A. Engel and James M. McGuire with the Southern District in cooperation with the PBA's General Counsel, Michael T. Murray.