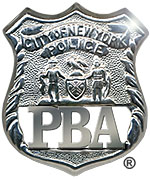 PRESS RELEASE
June 28, 2013
---
PBA announces plan to challenge pro-crime council members who voted for anti-Police bills
The Patrolmen's Benevolent Association (PBA) of the City of New York, which represents approximately 50,000 active and retired NYC police officers, today announced its plan to invest the full resources of the organization in challenging council members who voted in favor of the "biased based" policing and Inspector General bills, including supporting opponents in upcoming re-election bids.
PBA president Patrick J. Lynch said:
"There are many council members who voted in favor of these bills whose votes do not reflect the wishes of their pro-law enforcement constituents who cherish safe streets and all the positive things that safety brings to this city. We will reach out directly to constituents to educate them how their council members' vote for these bills will translate into increased crime in this city. For some, it will raise concerns about the safety of themselves and their families; for others, the specter of declining economic activity and real estate values associated with increased crime will persuade them that their council members have acted against their best interests. In the event the Mayoral veto is overridden, we intend to target certain of these pro-crime council members for defeat in the upcoming election, supporting their opponents to the greatest extent possible within the legal framework of our political system. No council member who puts this city at risk will have a free ride in the next election."
It is the PBA's belief that the "biased based" policing bill will result in increased crime due to the chilling effect it will have on enforcement activity by police officers who will be constantly second-guessed. Additionally, it will strip officers from patrolling neighborhoods streets so they can give depositions and make court appearances while being forced to justify every action in court as not being "bias-based." If these bills become law, the union believes the greatest beneficiary will be the criminal class who will be emboldened to commit more crime. Other winners will be the attorneys who the law incentivizes to bring these actions because of provisions that allow them to collect attorney's and expert witness fees while draining taxpayers' dollars as the city will be required to pay the costs of defending these actions. Unfortunately, the hard-working taxpayers, and the police officers who protect them, will bear the considerable burden of these ill-considered bills.