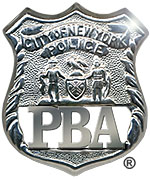 PRESS RELEASE
July 3, 2013
---
PBA launches a webpage to allow New Yorkers to oppose anti-police bills.
New Yorkers who want to express their opposition to the "bias based" policing and inspector general bills can do so easily through a new webpage launched today by the Patrolmen's Benevolent Association of the City of New York at www.nycpba.org.  Any resident of the city who visits the site and provides their name and email address can send their opposition to Intros 1079 (IG bill) and 1080 (bias bill) to all of the council members who voted for the bills.
PBA president Patrick J. Lynch said:
"Every New Yorker owes it to themselves and their family to understand the dangerous nature of these two horrendous bills.  If they become law, they will force already sparse police resources from our streets; they will handcuff police officers in their enforcement efforts and the end result will be an increase in crime.  Our city's economy is tied directly to safe streets and if we lose the streets to the criminals again, everyone will suffer.  That is why we have made it easy for all New Yorkers to tell their city council members that they oppose these bills and want them defeated when they return to the council floor following the Mayor's veto."
Lynch also noted that under the City Charter the City Council already has the oversight authority over the NYPD.