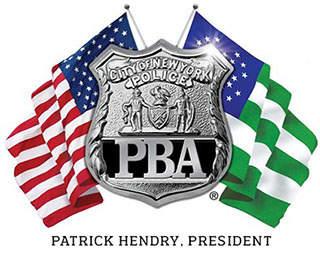 PRESS RELEASE
July 3, 2013
---
PBA targets council member Mark Weprin's district with educational flyers.
The Patrolmen's Benevolent Association (PBA) of the City of New York, which represents approximately 50,000 active and retired NYC police officers, today continued its campaign in the district of Council member Mark Weprin to convince council members who voted in favor of the "bias based" policing and the Inspector General bills to vote against them when they come to the council floor following the anticipated mayoral veto.  The union distributed thousands of flyers to Weprin's constituents at the Bayside Queens LIRR station this morning and yesterday to the constituents of Council members Daniel Garodnick and Jessica Lappin outside of the 77th and Lexington Avenue subway station during Monday morning's rush hour.
PBA president Patrick J. Lynch said:
"City Council members are elected to give voice to the community that elected them and the PBA believes that Council member Mark Weprin, who supported these bills that will ultimately make his communities more dangerous, has not represented the best interest of their constituents.  We are reaching out to his constituents to encourage them to voice their concerns about these bills and to persuade their council member to defeat them when the override vote is taken.  In the event the Mayoral veto is overridden, we intend to target all pro-crime council members for defeat in the upcoming election, supporting their opponents to the greatest extent possible within the legal framework of our political system.  No council member who puts this city at risk will have a free ride in the next election."
It is the PBA's belief that the "biased based" policing bill will result in increased crime due to the chilling effect it will have on enforcement activity by police officers who will be constantly second-guessed.  Additionally, it will strip officers from patrolling neighborhoods streets so they can give depositions and make court appearances while being forced to justify every action in court as not being 'bias-based.'  If these bills become law, the union believes the greatest beneficiary will be criminal class who will be emboldened to commit more crime.  Other winners will be the attorneys who the law incentivizes to bring these actions because of provisions that allow them to collect attorney's and expert witness fees while draining taxpayer's dollars as the city will be required to pay the costs of defending these actions.  Lynch said: "Unfortunately, the hard-working taxpayers, and the police officers who protect them, will bear the considerable burden of these ill-considered bills."
Click here to see the flyer.
# # #The Police Benevolent Association of the City of New York (PBA) is the largest municipal police union in the nation and represents nearly 50,000 active and retired NYC police officers.