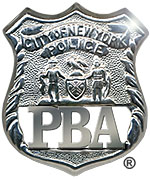 PRESS RELEASE
September 11, 2013
---
Police unions seek to intervene in federal monitor case
The unions representing police officers, detectives, lieutenants and captains will file a motion to intervene in a federal case which, if granted, will allow them to have an active voice in the remedial process and challenge by way of appeal the decision appointing a federal monitor for the NYPD.
In the case,Floyd v. City of New York, a federal court ruled that the actions of the NYPD in the use of stop, question and frisk were unconstitutional and appointed a federal monitor to oversee changes to the policy.

Patrick J. Lynch, president of the NYC Patrolmen's Benevolent Association, the largest municipal police union in the nation, stated the position of the four police unions:
"It is our collective view that this ruling may adversely impact the interest of the members that we represent.  Police officers, detectives, lieutenants and captains are the boots on the ground in the fight against crime and terrorism. The establishment of a federal monitor may directly impact our members' safety, day-to-day responsibilities, and collective bargaining and other rights.  So we believe that we should have standing to participate in arguing the appeal in order to protect those rights."
The motion will be filed by Dechert LLP's Steven A. Engel and James M. McGuire with the Southern District this evening.