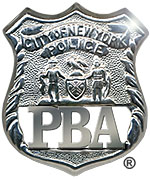 PRESS RELEASE
February 25, 2014
---
Cop-Killer Herman Bell denied parole
PBA president Patrick J. Lynch said:
"Herman Bell and his fellow assassins were convicted of executing two police officers in 1972.  Both officers were husbands and fathers who had young children.  Their convictions at trial should have sealed their fate permanently but, sadly, the law of the land allowed and still allows the two surviving killers to apply for parole every two years.  While we are pleased that Bell was denied parole again today, the NYC PBA pledges to continue to fight against his parole applications in the future.  Bell's victims, police officers Joe Piagentini and Waverly Jones, cannot be paroled from death and Bell and his cop-killing partners should never be allowed to walk the streets as free men again.  We are also grateful to the hundreds of thousands of right thinking citizens who have sent letters through the PBA's website opposing the parole of all cold-blooded cop killers." 
Note: Over 896,000 letters opposing parole for 67 incarcerated cop-killers have been sent via the union's "Keep Cop-Killers in Jail" website (www.nycpba.org), launched on September 12, 2012.