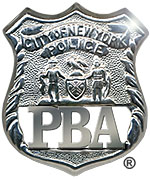 PRESS RELEASE
September 29, 2014
---
PBA calls for the City to fight nuisance civil suits against police officers
PBA president Patrick J. Lynch called upon the City's Corporation Counsel to deny criminals the opportunity of getting paid to damage the career of their arresting officers by immediately ceasing the practice of settling frivolous lawsuits against police officers and adopting Chicago's successful "no settle" policy to reduce baseless "quick buck" civil suits.
Lynch said in a letter sent to both the Corporation Counsel and Police Commissioner:
"These 'quick buck' cases bank on the City's policy to settle so called 'nuisance' suits for economic reasons rather than to fight them to conclusion.  The end result is a cottage industry in the legal community of generating baseless suits for economic gain that have a secondary impact of seriously injuring the reputation of good police officers who often are not given the opportunity to defend themselves.  Another side effect is the satisfaction of providing criminals with a monetary bonus for filing fabricated claims against their arresting officer.  Getting paid to sully the reputation of the officer who arrested you for breaking the law is almost too good to resist.  The end result is more and more baseless claims and suits against our members."
These civil settlements are made without admission of liability while the salacious allegations contained in the lawsuit papers are being reported in the press as evidence of wrongdoing, which they are not, and have been used against our members in unrelated litigation and investigations.  One such baseless suit became public in connection with the tragic death in custody of Mr. Eric Garner on Staten Island.  The reputation of the officer involved was publicly sullied because of the settlement of a nuisance suit where the officer denied all the allegations and where there was no admission of guilt or liability by the city which paid two claimants $15,000 each to settle without a trial.
It is the PBA's view that "quick buck" settlements by the City because it is cheaper than fighting the accusations in court to conclusion actually cost the City more in the long run by encouraging more and more baseless civil suits.  A "no settle" policy would remove the financial incentive to file these suite and those who do file, would face the real possibility of penalties if their suit is unsuccessful.  The number of frivolous civil suits would drop dramatically as it did in Chicago.