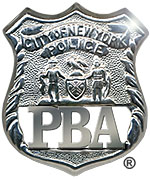 PRESS RELEASE
May 15, 2014
---
PBA joins families in opposing parole of two cop-killers
Police Officer Anthony Dwyer, 23, had been a member of the NYPD for a year and a half assigned to Midtown South when on October 17, 1989 he was pushed off a roof by a robbery suspect into an air shaft of a Times Square building where he died.  His convicted killer, Eddie Matos, has just become eligible and is now seeking parole.  Police Officer Harry Ryman, 43, was off-duty at home on August 14, 1980 when he stopped three men who were attempting to steal a neighbor's car.  Officer Ryman was hit when all three armed men fired shots at him but despite being mortally wounded Officer Ryman returned fire hitting one gunman.  The wounded thief, Paul Ford, was taken by his comrades, Barrington Young and Cornelius Buckner, to Kings County Hospital, the same hospital that the mortally wounded officer was taken.  The wounded Ford was spotted by alert police officers and was arrested in the hospital while Young and Buckner were arrested following a foot chase.  Barrington Young, has reapplied for parole. 
PBA president Patrick J. Lynch will lend the PBA's support to the Dwyer and Ryman families as they present their victim's impact statements opposing the parole of these cop-killers, tomorrow, Friday, May 16th at the State Division of Parole Offices at 314 W. 40 Street in Manhattan.  Family members and Lynch will speak to the media immediately following the victim impact statements at approximately 11:30 AM outside the Parole offices.
PBA president Patrick J. Lynch said:
"The members of the Patrolmen's Benevolent Association are adamant in our belief that any person who kills a police officer in the line of duty should never be granted parole.  There is a kind of evil that cannot be rehabilitated and that deserves to be denied the pleasures of living the free life that they denied to these hero police officers without so much as a second thought.  We sympathize with the Dwyer and Ryman families who not only suffered the sudden and unimaginable pain of losing a loved one but who now, every two years, have to relive that pain and suffering at these parole hearings, just to ensure that justice is done.  There is no parole from death for Police Officers Dwyer and Ryman and there should be no parole from prison for these cold-blooded cop-killers."
The PBA has established a website that makes it easy to oppose the parole of cop-killers.  Anyone wishing to object to cop-killers being paroled can visit www.NYCPBA.org and click on "Keep Cop-Killers In Prison" and follow the instructions to send a letter of opposition to the parole board.